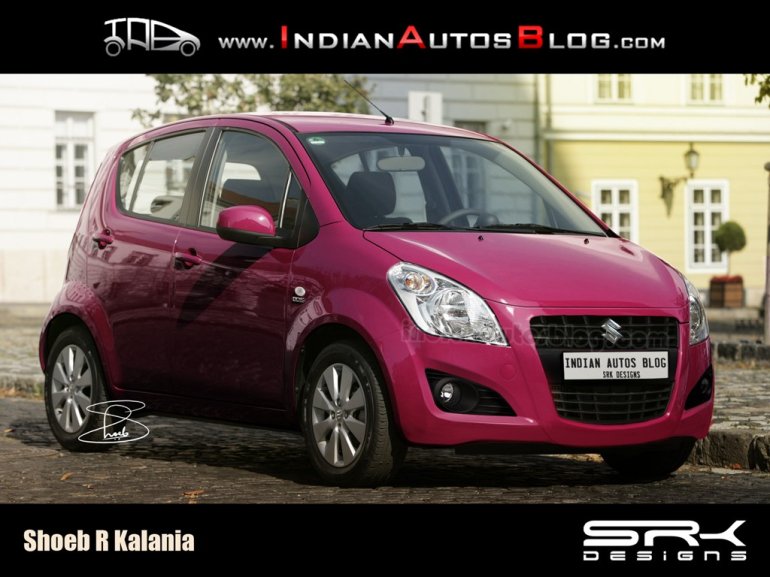 On the sidelines of the launch of the Maruti Ertiga in Chennai, Mr Shashank Srivastava, Chief General Manager (Marketing) Maruti Suzuki, spoke to IndianAutosBlog.com on the future of the Ritz. He declined to comment on the launch plan for the Ritz but explained how refreshing products continuously is the way to keep competition at bay.
[Left - Speculative rendering of the Ritz facelift with reworked grille and triangular foglight enclosures]
We asked Mr Srivastava his thoughts on lending a cosmetic refreshment to the Ritz and upgrading the 1.2-liter K Series engine with VVT technology now found on the Swift and Dzire models to make it a worthy alternative to customers who may be put off by the long waiting periods of the Swift.
Mr Shashank Srivastava, Chief General Manager (Marketing) Maruti Suzuki -
My thought is even within the premium hatchback segment, there are clearly two types of consumers. One is the individual performance oriented customer and he's going for the Swift and that is the largest chunk of people in this category. The Ritz is a more for a family type of customer who is looking for a tall-boy car and that segment is smaller than the Swift's segment. I don't foresee the Ritz as an alternative to the Swift because it caters to a different mindset of customer.
But you are right because the Ritz volume makes it the number 2 car in its category and its already catching on in terms of volumes. The large waiting periods of Swift has not reflected in any sort of cancellations. Therefore Ritz is going in its own way and doing very well. We are doing 7k-7.5 units (monthly) of late.
Regarding the question of whether to upgrade or to do some sort of a facelift (for Ritz), these plans are there across all models. The point about automobile is it takes a lot of time and we have to plan much in advance. The upgradation, as you would have seen, is planned across all models. For example we brought the new Estilo a year and half back, we bought the new Wagon R in June, we had the Alto K10..we have been changing and upgrading the products. Swift and Dzire are new, SX4 we had upgraded..our plan is very robust as far as upgradation of models is concerned and I'm sure its across all models.
We have already shown you a spyshot of the Ritz and the product looks ready for deployment. It is only a matter of when and that decision can come only from Maruti! Voids in the Ritz series that needs filling up are the ZDi variant alongside CNG technology. An automatic transmission may fit in the scheme of things as the Ritz customer is not always seeking a spirited driving performance.