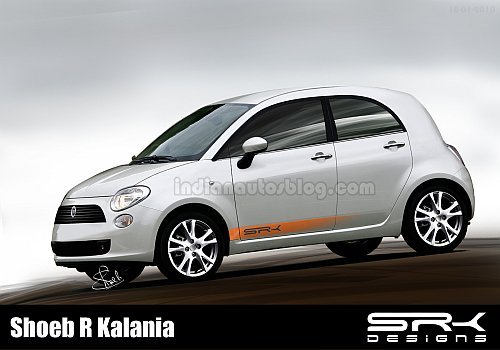 Last week, Fiat announced its game plan for India until 2016 driven by the next generation Punto and Linea models. We saw some major announcement such as the introduction of the Jeep, Abarth and Mopar brands in India.
Something that was completely left out in the press conference but was making news in the previous years was the small car from Fiat.
When we caught up with previous Fiat India CEO, Mr. Rajeev Kapoor, at the inauguration of the Fiat Caffe in Delhi back in January, he confirmed that the sub-Punto car would likely be an India-specific operation.
NDTV's flamboyant editor and auto show host Siddharth Vinayak Patankar has brought forward new details on this project. As it turns out the small car is not part of the plan as of now. Fiat has been discussing the small car internationally with its various subsidiaries for a while. Mr Manley, head honcho of Jeep, terms it as the 'Fiat Value World Car' that will offer supreme value for money.
The Fiat Value World Car is not only being discussed for the Indian market but also for international markets. A small car below the Grande Punto and will be squarely targeted against Hyundai Eon and the Alto 800. Manley is very clear that he wants to offer the best value for money but not compete against the Tata Nano. That makes the Value World Car less inexpensive than some of its well recognized siblings such as the Palio, Uno and Panda.
Fiat also believes that it would require high degree of localization in the World Value Car to be successful in the Indian market. The high localization will help to reduce the price tag and decrease maintenance cost.
Fiat has realized that in order to completely focus on the World Value Car, it would require a very strong distribution channel in India.
Fiat India will be present across the country through 112 dealers by 2016 and it is still not enough for the small car to be successful. As a result, the small car will only see the light of the day after Fiat has successfully implemented the current 4 year plan.
[Source: profit.ndtv.com]