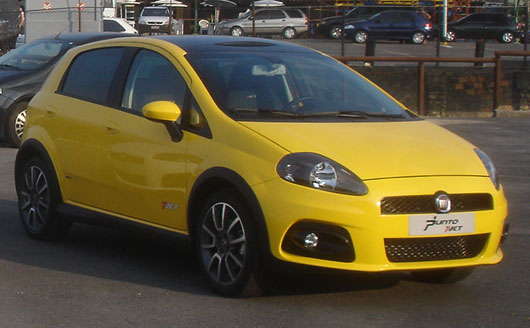 The Fiat Punto Turbo T-Jet is Fiat's take on the hot-hatch segment. Filmed testing in the roads of Brazil, the T-Jet will be formally presented to the public at the National Automobile Chamber of St. Paul which is scheduled to take place on the 30th of October in Brazil.
This is the most jaunty interpretation of the Punto, which has the Italian 1.4 16V engine equipped with a turbo IHI RFH3 that gives birth to 152bhp. The 21.1 kgm@2250 RPM helps the T to rocket to 100 kmph in 8.5 seconds and achieve a maximum speed of 200Kmph, which for a hatch is remarkable.
The T-Jet looks very close to the Abarth version which is sold in Europe as the 17 inch alloy wheels, sunroof, sporty bumpers and stickers help in distinguishing it from the regular Grande Punto.
IAB Comment- The T-Jet will go on sale in Brazil in the month of November. Fiat brought out the 1.6-liter version of the Palio which developed 100 bhp quite a while back in India for the souls which demanded more might and speed. Will it happen again with the T-Jet after the launch of the Grande Punto? We wish we knew the answer.
You can read about the Natural Gas-powered Grande Punto, which was unveiled earlier, here
Source : Mundo Auto Motor