We're racking our brains to understand what Fiat is planning to bring to India. It was reported that Fiat India's planning to launch a CBU and a small car in India in 2012. While we know that the small car will have a 1-liter engine and will be priced under Palio, we're not sure what the CBU is.
So we called up Fiat India and heard this from their Mumbai representative -
It's not the Freemont . We're looking at a (complete) Fiat product... the Fiat 500 with the Twin Air engine which won the engine of the year award is not in our business plan for 2011.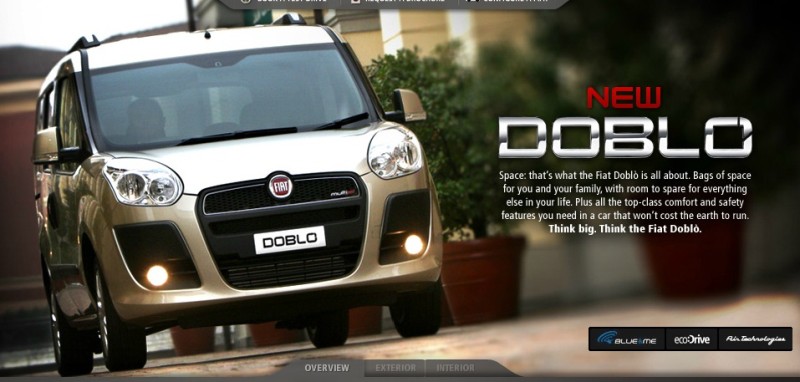 The Freemont is a rebadged Dodge Journey, a SUV produced in Mexico. Fiat India is still discussing with its HQ to bring down a product through the CBU channel perhaps next year. Now this product has to be RHD and if it is a CBU, it can't be a family hatchback as that will most likely submarine. Fiat does not have cars like Jetta or Passat, forget a C-Class or a BMW 3 Series slayer. The portfolio is limited to compact vehicles.
The Fiat 500 comes through the CBU route but a change in powertrain will not make it a new car. Though Fiat never mentioned that their CBU product is going to be all new, we're certain that's what they meant. We're going to look beyond the 500 to see what else is interesting.
One vehicle that caught our eye which we think is suitable to India even as a CBU is the Doblo. Here's why -
1) The Doblo looks like no other vehicle on the road today. Though being an MPV, it will not be compared to Innova and that's a start.
2) Doblo is available in the RHD form. It is being sold in the UK market.
3) Doblo is available with diesel engines. Both 1.3- and 1.6-liter Multi-jet engines paired to 5- and 6-speed manual, 6-speed automatic transmissions sell very well in Europe.
4) This is a 7 seater and can be positioned as a premium family vehicle. It can be marketed as a soft roader for a full family.
5) Customers coming to see the Tata Aria (Fiat and Tata sell from under one roof) could fall for the Doblo which offers similar space and comfort. The target customer is already coming to them in the form of Aria buyers.
6) There is very little competition in the premium MPV space which has good potential. If not for the Tata logo, many believe the Aria would have fared very well. The Aria's not doing well, the Yeti is too small to disturb the customer buying a Doblo.
7) Being a CBU, Fiat has very little to lose. They can ask Turkey (where Doblo is made) to send them less vehicles if the demand is in a flux.
If Fiat brings the Bravo to CBU to India, that may not be a very good idea. There's another MPV under Doblo called Qubo based on the Punto platform, but that's a 5 seater. Will that work better? Given it is a derivative of the Punto platform, why will Fiat not manufacture in India?
What could Fiat India be up to?