We caught up with Mr. Enrico Atanasio, MD of Fiat India on the sidelines of Fiat's exclusive dealership inauguration in Chennai. Here is what he had to share with us.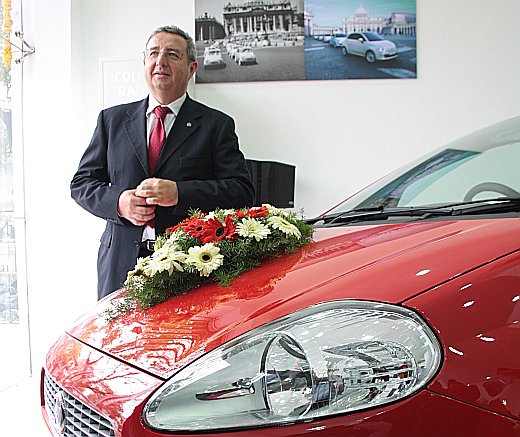 Q: During the press conference in December, Abarth was mentioned for India. Would you have standalone Abarth showrooms?
A: We will be combining it with Fiat in Fiat showrooms.
Q: By repositioning, will the Linea Classic be the facelifted Linea or the current Linea be repositioned?
A: We will talk about that in due course, when we launch the product. Right now it is a little premature. In the Classic we will have some significant changes which we need to discuss in detail once that will be available. Now accept the fact that I have one year to do another job which is the network, then we will talk about the product.
Q: You have spoken about the replacement for the Linea and Punto as well. So are those all new products?
A: They will be new models. There will be major changes.
Q: You have also spoken about the B Segment SUV in the product sheet. Would your SUV be a hatchback with a rough road package? (Increasing the ground clearance and adding rugged looking bumpers and plastic fittings)
A: I think that (SUV product) has a soft SUV type look. The customer is appreciating those. When the customer is appreciating there is room for that.
Q: Do you think that it can lock horns with EcoSport and Duster which are complete SUV top hats on hatchback platforms?
A: Reality is that I believe there will be combination of things to be done. Definitely we have a brand that is dedicated to SUV which is Jeep. With that brand we will go with a completely different and separate product (referring to Jeep's B Segment SUV). With the brand Fiat we will have an enrichment through that type of product with which we respond to some customer requirements. So there is room for both type of vehicles in the market.
--
Listening to Mr. Atanasio's remarks, we get a strong feeling that the Fiat 500X destined for Europe in the burgeoning compact SUV segment may not be the product identified for India. We could receive an 'Adventure' version of the Punto instead. However the next generation editions of the Punto and Linea should have entirely different design and interiors.