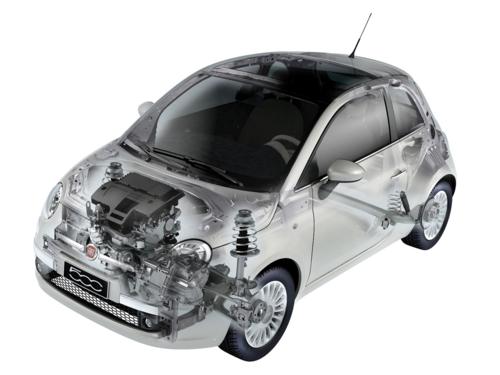 The cinquecento is going hybrid! The in-demand Fiat will soon become even more appealing – with a petrol-electric engine that offers incredible fuel economy and super-low CO2 emissions.
It will be based on the company's forthcoming 900cc two-cylinder unit – which will debut at July's Good-wood Festival of Speed. The engine is mated to a motor and a battery pack, and will allow small cars like the 500 to run solely on electricity for short distances. Add a stop-start system and VW DSG-style twin-clutch gearbox, and it promises reduced CO2 emissions – engineers estimate a figure of below 90g/km!

That would help Fiat comply with the European Commission's plans to impose an average 120g/km limit on the model ranges of all firms selling cars across the EU by 2012.
No details have been revealed on the engine's output, but it's likely to come in two forms, as previewed by the Panda Aria concept at last Sept-ember's Frankfurt Motor Show.

That car debuted the 900cc twin alongside a 105bhp turbo version, and Fiat also has plans for a normally aspirated 65bhp variant. The hybrid 500 is likely to benefit from other green technologies seen on the Aria, which include low-rolling-resistance tyres. The featherweight two-cylinder engine is 20 per cent lighter than a four-cylinder motor, so owners could expect 80mpg-plus fuel economy.
Alfredo Altavilla, boss of powertrain technologies at Fiat, told that the hybrid drivetrain should go into production in three years' time. It would feature across Fiat's small car range, making appearances in the Panda and Grande Punto.


And while the first petrol-electric cars may not be seen in showrooms until 2011, the all-new two-cylinder petrol engine will be available in the 500 before the end of the year. This is the same engine that Maruti is after. Maruti is launching a slew of new small cars and it wants a diesel engine to slot in under the 1.3MJT, which it uses for its Swift, Splash, SX4. The 900cc engine will widen its range and also be very useful to counter competition from other Automakers.
Source : Green Car Congress and 500blog.blogspot.com