The Fiat 500 is an all-time icon in the world of automobile. Dante Giacosa designed this rear-engined masterpiece as a post-war  economy car in 1957. You get the distinctive retro feel even when you look at the new-generation, resurrected 500 which is cute and cuddly.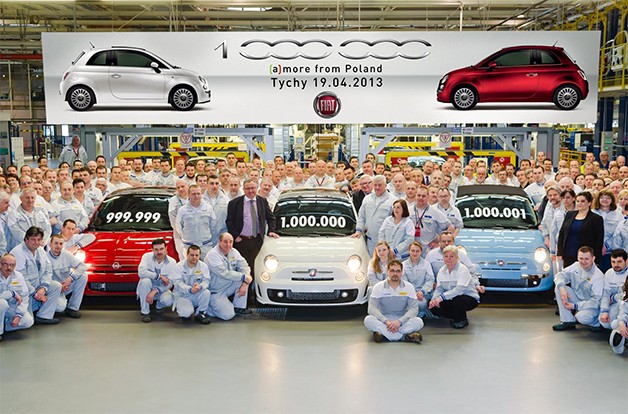 The retro trend kicked off at VW with new Beetle in 1998,  BMW's revival of the Mini brand followed suit in 2001. Since the 500's re-birth in 2007, the production of Fiat 500 has now reached a milestone of one million. Lately, the one millionth Fiat 500, produced in Poland has rolled off the Fiat Auto Poland production line at the Tychy factory.
Fiat says that, of the more than one million units produced, it is difficult to find two identical 500s as it has different trim levels, fuel systems, colors and equipment.  Still there is a long way to go until it could reach the original 500's production number which is claimed to be close to four million!
The  retro-Italian car has won 40 international awards worldwide and is manufactured at Tychy for 83 countries. Highlighting the occasion, the car number 999,999 is a diesel-powered S model with 95PS Multijet engine headed to Italy while the milestone car is an Abarth also headed to Italy, and car number 1,000,001 is a light blue 500C Lounge destined for Germany.
The recently revamped Fiat 500 offers engine versions including 1.2, 0.9 TwinAir, 1.4 L, and 1.3 MultiJet. Fiat India will bring the Abarth brand here officially and the Fiat 500 Abarth could be used as a brand shaper.