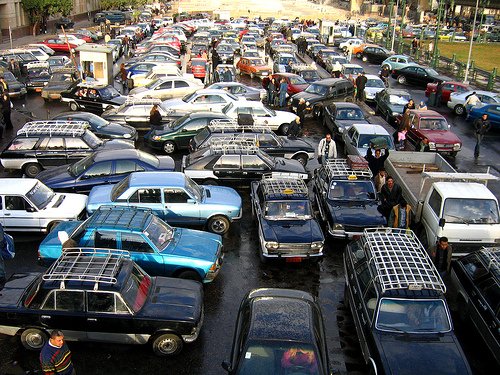 Traffic is the worst enemy to driving. Here's how you could make it easier
Cities like Delhi and Mumbai are becoming more and more congested and that means you've got to drive for longer time to cover the same distance. The worst part is negotiating traffic as the level of driving difficulty increases. You become stressed, you are prone loose your temper and when you reach home, you have a grin on your face.
Here are a few tips which we thought would make the ride home marginally better -
1) Plan your route
I know a lot of people who don't plan their journey and get stuck in traffic. There could be a hundred routes to your destination but you there are only few worth considering. Plan your journey in advance so that you have a clear mind and know where exactly you want to go. This method exposes you to lesser anxiety and confusion.
2) Listen to the radio for traffic updates
There are some radio stations which air traffic conditions in frequently used roads and intersections at certain times of the day. If you can get a tip, then you could switch to an alternate route or leave work late.
3) Position your mirrors
I know a lot of people who leave home and half way through the journey they reach out to the passenger's mirror and adjust it. Once they reach a congested lane, they adjust their in-cabin mirror. This is a practice you should avoid. By adjusting your mirrors to the comfortable position, you get better visibility in traffic and avoid the risk of an accident.
4) Use your indicators
While changing lanes in congested roads it is a must to use the indicators. You don't want to make sudden lane changes without warning. If a collision occurs, it is you who has to pay to get your car back in shape.
5) Pile up some good music
Use your car's glove box to store your favorite sound tracks. If your car is equipped with USB hub, then you could carry a thumb drive with preferred music in your pocket. Relaxing while driving leads to lesser stress, and improves driving abilities.
6) Maintain the perfect temperature
If you have climate control, then you could precisely set the temperature inside your car. If you don't then you've got to adjust the settings to provide you with a comfortable cabin temperature.
7) Use a car perfume
If the aroma inside your car is of industrial glue, then you are certain to get a headache very often. Purchase a bottle of car perfume and place it on to the dashboard. Pleasant smells will help you keep calm.
8) Research an alternate route
When you have the time, try using a completely different route to get to work. This will help you understand new roads and also new places. If you can learn a short-cut eventually, wouldn't that save hours of driving in a week?
9) Start early, leave late
You could carry your breakfast in your car and have it once you've reached work. You could also eat dinner at a local restaurant once or twice a week and leave work much later.
Photo credit - Flickr