The Alfa Romeo Stelvio Quadrifoglio went on sale internationally at the beginning of this month. Weeks after the sales launch, Alfa Romeo displayed its first SUV's high-performance variant at the 2017 Dubai Motor Show.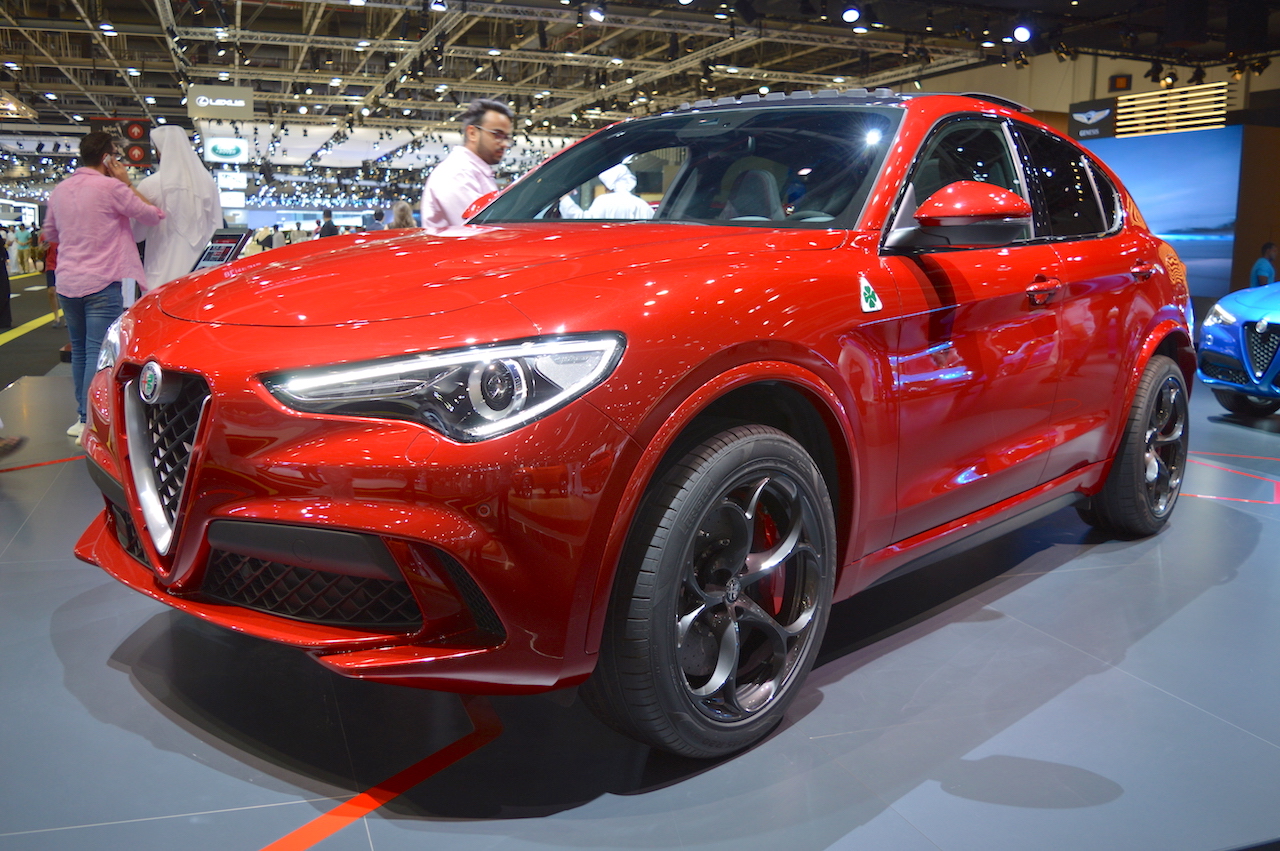 The Alfa Romeo Stelvio itself is quite a sporty looking SUV, and its Quadrifoglio variant strengthens that impression. The Alfa Romeo Stelvio Quadrifoglio's styling isn't notably unique, and there are only minor visual changes on the outside. It has dedicated bumpers & wheel arches, intercooler side air vents at the front, bonnet air vents, side skirts with a carbon insert and a quad-tip exhaust. Interior highlights include red ignition button, Quadrifoglio insurgent cluster, machined aluminium gearshift paddles and carbon-fibre trim.
The Alfa Romeo Stelvio Quadrifoglio sports a 2.9-litre bi-turbo V6 petrol engine developed with inputs from Ferrari technologies and engineering know-how. This all-aluminium engine produces 510 hp at 6,500 rpm and 600 Nm of torque at 2,500-5,000 rpm. An 8-speed automatic transmission teams up with the Q4 AWD system to send drive to the wheels.
Alfa Romeo has equipped the Stelvio Quadrifoglio with the exclusive Alfa Chassis Domain Control unit that acts as the brain of the SUV and assigns specific tasks to the various active systems including he Q4 AWD system, as well as the four-mode Alfa DNA Pro selector, the Alfa Active torque Vectoring system, the Alfa Active Suspension system and the ESC. The Alfa Romeo Stelvio Quadrifoglio can reach from 0-100 km/h in just 3.8 seconds. The fastest SUV in its class has a top speed of 283 km/h.
Alfa Romeo will launch the Alfa Romeo Stelvio Quadrifoglio in the Middle East in Q1 2018.