Least expensive McLaren yet.
The all new McLaren 540C has made its global premiere at the Auto Shanghai 2015, just weeks after its more-powerful twin, the 570S, was revealed at the 2015 New York Auto Show. The debut of the 540C completes the two car lineup McLaren had planned for the entry-level Sport Series.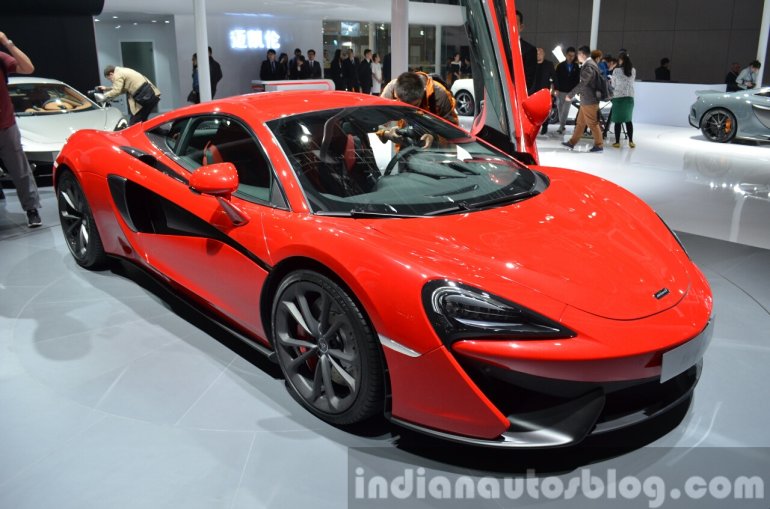 Design wise, the McLaren 540C is identical to the 570S, which is considered as a "baby McLaren P1". The front end is characterized by the large LED headlamps, sculpted bonnet,  and aggressive intakes. The side features a smaller intake mounted in the rear quarter panel. The 540C gets exclusive 19-inch alloy rims at the front and 20-inch at the rear.
Air flows along the bodywork with minimal drag through the flying buttresses at the rear of the cabin, which help increase downforce levels and aid engine cooling. An integrated spoiler at the trailing edge of the rear deck provides optimal downforce. The rear-end sports P1-esque taillights, and an aggressive diffuser that sits between the twin exhausts.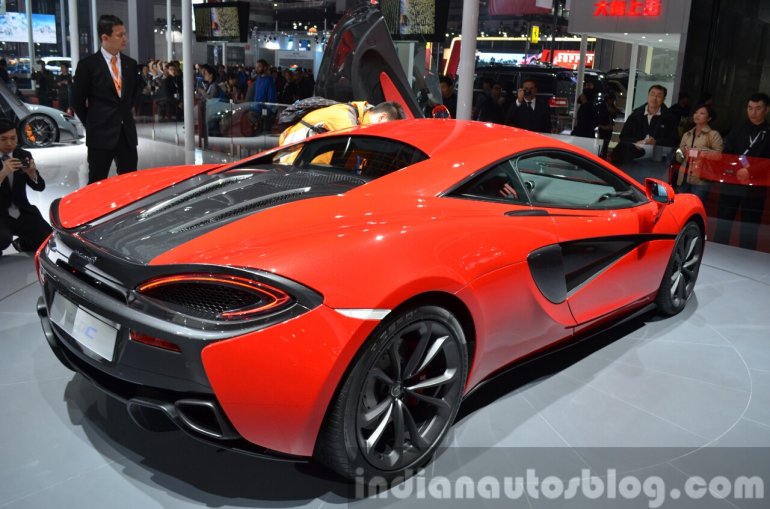 The McLaren 540C is one of the least expensive sports cars to feature dihedral doors. Opening them reveals an interior that is recognizably McLaren. It is designed around the innovative Mclaren MonoCell II, a carbon fiber tub that helps keep the overall weight as low as possible whilst improving structural rigidity. McLaren claims that the 540C is 150 kg lighter than its closest rival.
Unlike the flowing center console of the Super Series models (650S and 675 LT), the 540C features a separated center console that houses a seven-inch IRIS touchscreen and dual HVAC vents, while the Active Controls are pushed to the central tunnel. Like the 570S, it has a fully digital instrument panel with different profiles, depending on the mode it is set to.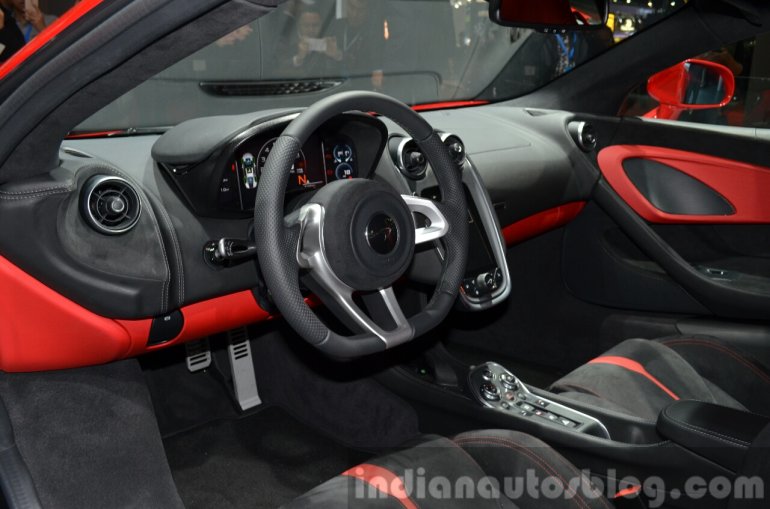 Similar to all McLarens, the 540C is powered by a 3.8-litre twin turbocharged V8 engine, but is detuned to deliver 540PS at 7,500 rpm and 540Nm of torque at 3,500-6,500 rpm. It is paired to a seven-speed seamless shift gearbox (SSG) which enables the 540C to hit 0 to 100km/h in 3.5 seconds, 0 to 200km/h in just 10.5 seconds, and on to a top speed of 320km/h.
McLaren have started accepting pre-orders for the 540C and 570S. The former starts from £126,000 (INR 1.18 crore), and deliveries will begin in early 2016.
McLaren 540C Coupe - Press Release
[Slideshare direct link]