Fiat Palio was a very successful brand in India. In fact, it was the first hot hatch in India with a 1.6L engine. However, due to lack of commitments from Fiat India's senior management, the Palio showed a very lackluster sales numbers. Fiat did not upgrade the Palio to BS4 norms and it was left to fend for itself.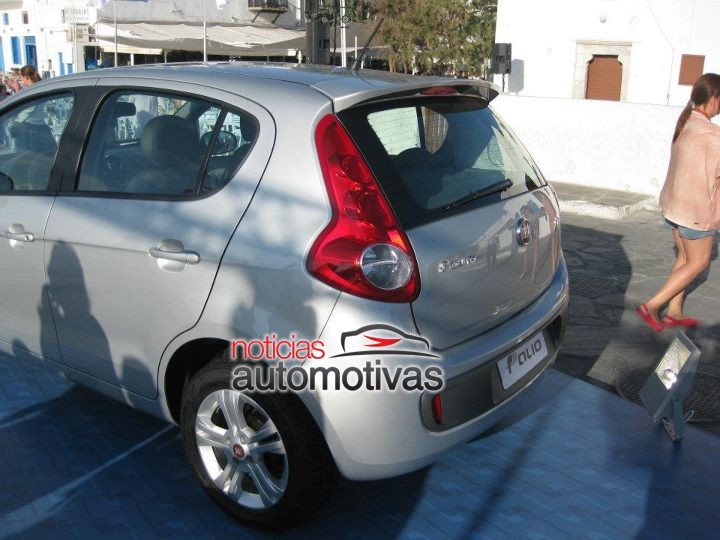 A long time back, Fiat  decided that the new Palio will be initially launched in Brazil and then will make its way to the other parts of the world. Thus, Fiat Brazil was entrusted the responsibility of developing the 2012 Palio grounds up. Our good friends Eber and Moriah at NoticiasAutomotivas have kept us regularly updated on the developments surrounding the 2012 Palio.
Now, NoticiasAutomotivas have finally exposed the ripened fruit of a year long testing period. We have a set of comprehensive shots of the new Fiat Palio from all angles – both the normal and the 'Sports' model. So let's dwell deeper into the new Fiat Palio:
The 2012 Fiat Palio's design is a complete departure from the previous generation model. The new Palio seems to be heavily inspired by the elder sister - Grande Punto. The wide air intake seems to be inspired from a lot of Peugeot models. The curvy head lamps give the car a very subtle and subdued look. A wide chrome plated bar runs through the upper grill with a Fiat logo sitting in between.
The side profile of the car is very simple with hardly any design flare. A single character line runs through the body. The window line slopes slightly towards the tail.
The rear portion of the Palio is very attractive with a unique design. Like the Punto, the tail lamps of the Palio start from the roof and end with the rear windshield. The tail lamps broaden as the go down and form a circular blob where the indicators are placed. A unique graphite colored bar is placed at the bottom to incorporate the registration plate. It also has reflectors at its edges.
The interiors of the car are very simple and plain. The 3 spoke steering wheel is equipped with audio controls and the dial cluster is taken from the Punto. You also get a music system but that too looks very dry and out of place.
The really interesting bit is the Palio 'Sports' Model which is also caught on cam. Expected to be powered by a 1.6L engine, the Palio Sports gets all sorts of goodies like the headlamps with black surrounds, stylish body decals, gills on the side, dual barrel exhaust pipes, a blacked out spoiler and unbelievable awesome alloy wheels.
The new Palio looks like a promising product for the Indian market. However, with Fiat developing a small car for India and the Punto already sitting in the B+ hatchback segment, we are not quite sure where the new Palio will fit in.
[Source - NoticiasAutomotivas.com.br]