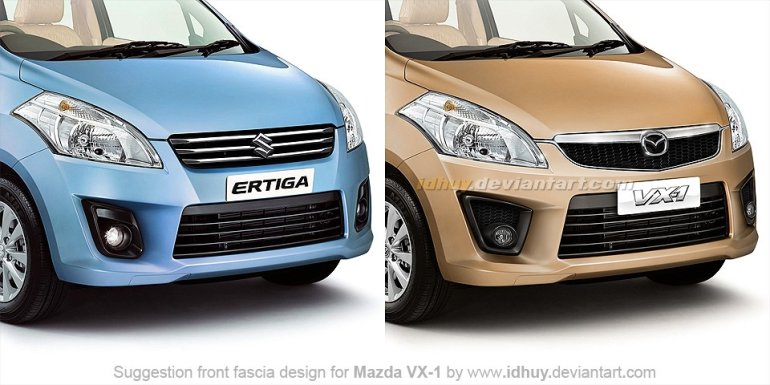 The Madza VX-1 is essentially a rebadged Maruti Ertiga, exclusive to Indonesia. Think of it as Mazda Indonesia's Renault Pulse. If you are a regular Indian Autos Blog reader, you would have already seen the first spy pictures of the VX-1.
Mazda has started taking orders for the VX-1 which is expected to be launched sometime in mid-2013. Except for the badges, there is very little to differentiate the Ertiga and the VX-1.
Rebadging the Ertiga was the quickest, cheapest and the easiest way to offer the MPV doting Indonesians a product they would love. The most sensible way is to request Suzuki to assemble the VX-1 at their own assembly plant.
The Mazda VX-1 is most likely to adopt the same engine as the Ertiga which means one can find the 1.4 litre 95PS K-Series petrol engine under the hood. The Suzuki Ertiga is enjoying a very good demand in Indonesia and it'll be interesting to see how much of it is going to be diluted by the Mazda VX-1. Even if the unforeseen eventuality of the VX-1 beating the Ertiga comes to pass, Suzuki is the ultimate winner.
It is to be noted that the Ertiga is imported into Indonesia in the form of CKD kits from India. If the Mazda VX-1 manages to cover a wider audience base, Maruti could find it difficult to satisfy the Indonesian demand as rightfully the company needs to fulfill the Indian demand before thinking of exports.
[Rendering submitted by Avid Indian Autos Blog fan Iswahyudi Hanafiah from Indonesia; Source: Tribunnews.com]