The first model from the new gen family will be the Giulia next year.
Alfa Romeo is set to launch eight new cars later this decade, with the first one being the Alfa Romeo Giulia that was unveiled in June. All eight cars were set to arrive by 2018, but an official FCA document recently accessed by Indian Autos Blog reveals that the completion date has been pushed back to mid-2020.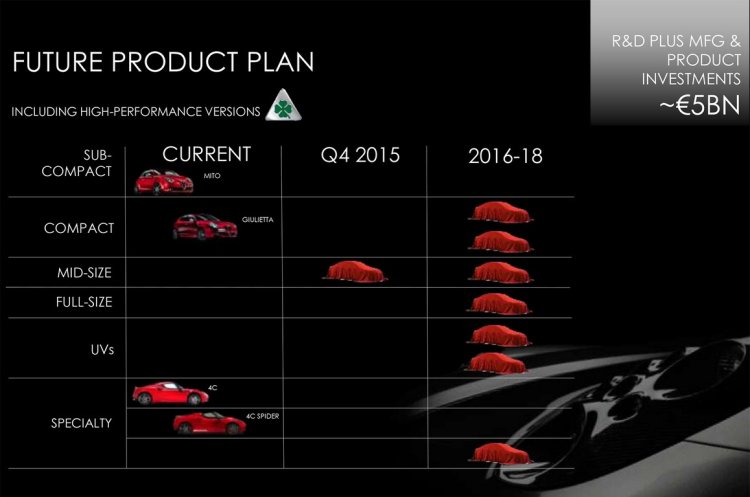 FCA states that the two reasons behind this postponement are the slowdown in the automobile market in China and the need for more time to create a proper global distribution network. Irrespective of the planned launch dates, the models are said to be confirmed. Here are top four cars to look out for before 2020 from the Italian premium brand.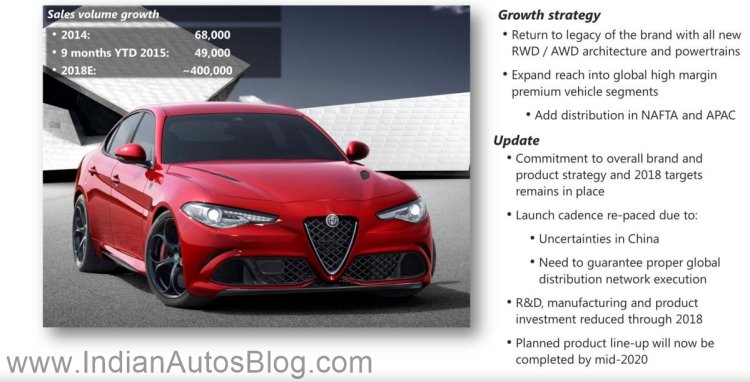 1. Alfa Romeo Tipo 962
The Alfa Romeo Tipo 962 will be a C-segment crossover. Lorenzo Ramaciotti, Special Adviser to FCA CEO Sergio Marchionne and previously Head of Design at FCA, has explicitly stated that Alfa Romeo will make CUVs, not SUVs, because Jeep is the brand that specializes in the latter. The Tipo 962 is the codename for a compact crossover that will rival the Porsche Macan but be positioned below the Maserati Levante in the FCA family.
2. Alfa Romeo Tipo 949
The Alfa Romeo Tipo 949 is codename for a new D-segment crossover. It will rival the Audi Q5, BMW X5 and Mercedes GLS.
3. Alfa Romeo Giulietta
The current Alfa Romeo Giulietta debuted at the 2010 Geneva Motor Show and is now close to six years old. Following a facelift next year, a completely redesigned model will arrive later this decade.
4. Alfa Romeo GTV
The Alfa Romeo GTV, the not-so-classic sports car discontinued last decade, is set for a revival. It is said that a convertible version will also be spawned, which will mark revival of the Alfa Romeo Spider.
2016 Alfa Romeo Giulia - Image Gallery
2015 Alfa Romeo Giulietta - Image Gallery