Apr 18, 2018 - 12:01pm IST
Filed under Hyundai i20, Car Reviews, Hyundai
2018 Hyundai i20 (facelift) review
Dhruv Saxena, Mechanical engineer trying to find his place in the world of automobile journalism.
Overview
If you take a look at the monthly PV sales figures, you will realise that the i20 is one of the most, if not THE most important model for Hyundai in India. On an average, Indians buy more than 11,000 units of the hatchback each month. As evident from this stat, the i20 is a central figure in Hyundai's operations. The fact that the Auto Expo held in February was chosen as the stage for the global premiere of the 2018 Hyundai i20 goes on to highlight just that. The Hyundai i20 facelift brings with it exterior and interior updates and we spent a few days with one in order to explain these changes in greater detail.
What's new on the outside?
The Hyundai i20 has received a handful of visual changes with the facelift. Up front, Hyundai's signature Cascading grille takes centre stage accompanied by a remodelled bumper and reshaped fog lamps. Placed next to the fog lamps are air curtains, which modulate air flow to improve fuel efficiency. The refreshed model wears new 5-split spoke 16-inch diamond-cut alloy wheels. Styling updates to the rear include tail lamps with new graphics. The license plate has migrated from the bumper, which now gets a dual tone look, to the tailgate. Another minor change is the removal of 'VTVT' or 'CRDi' badges from the bottom right corner of the boot lid.
Hyundai has updated the colour palette with the addition of Passion Orange and Fiery Red shades. Both are available in a dual-tone scheme as well. However, the dual-tone paint options with black interiors with Satin Red/Tangerine Orange highlights are restricted to the Asta grade. While the changes aren't very extensive, they do help liven things up a bit. Hyundai i20 was and remains a great looking car.
What's new on the inside?
Changes to the cabin of the Hyundai i20 facelift are harder to spot. For starters, the seat upholstery is new and rear seat occupants now get a centre armrest with cup holders. Our test car came with a black and beige cabin. Customers opting for the Fiery Red with Black Roof, Polar White with Black roof, and Passion Orange with Black roof will get an all-black cabin. The latter sports Tangerine Orange highlights, while the other two get Satin Red highlights. A welcome addition to the MID placed in the instrument console comes in the form of distance to empty readout, a feature missing from the earlier model's features list.
Closer observation reveals changes to the centre console. The number of buttons flanking the touchscreen has been reduced. Other changes we were able to spot were rectangular hazard lamp and door lock/unlock buttons, located between the central aircon vents, in place of trapezoidal ones and silver surround for the vents. The infotainment system, which one of the best in the business, now supports the Auto Link mobile app, which helps the car owner keep a check on the vehicle health, monitor driving pattern, manage parking, get roadside assistance and book a service request.
What's it like to drive?
The Hyundai i20 continues to employ 1.2 L VTVT Petrol and 1.4 L CRDi Diesel engines paired with a 5-speed manual and 6-speed manual gearbox respectively. The petrol mill produces 83 PS at 6,000 rpm and 11.7 kg.m (114.74 Nm) of torque at 6,000 rpm. The diesel engine develops 90 PS at 4,000 rpm and 22.4 kg.m (219.67 Nm) of torque. The not competitively priced i20 1.4 L Petrol AT has been dropped as part of the MY2018 update. Its place will be taken by a CVT equipped 1.2 L engine variant scheduled to arrive in May. Hyundai claims that slight retuning of the two power plants has helped achieve 9% higher fuel efficiency.
We drove the 2018 Hyundai i20 petrol variant. Performance from the 1.2 L petrol engine is adequate and, paired with a slick shifting 5-speed manual gearbox, should satisfy the needs of an average car buyer in this segment well. Power delivery is linear offering sufficient amount of poke throughout the rev range. It does lack low-end torque, however. Extra care while modulating the clutch and throttle in stop-start traffic needs to be taken to avoid stalling the car.
The steering in on the lighter side making it nice and easy to use in the urban confines. As speeds build up, the EPS unit adds weight ensuring a confident drive even at triple-digit speeds. It does seem a bit eager to return to the dead centre position, though. There's hardly any feedback from it, but then again, an average car buyer isn't really looking for that. The 2018 Hyundai i20 isn't an out and out driver's car but shines as a city commuter thanks to a light steering, comfortable ride, and adequate performance from the 1.2 L petrol engine.
Should I buy one?
Prices start INR 5.35 lakhs (ex-showroom Delhi) onwards for the petrol variant and INR 6.73 lakhs (ex-showroom Delhi) onwards for the diesel. The 2018 Hyundai i20 in Asta (O) spec (the one we drove), is priced at INR 7.91 lakhs (ex-showroom Delhi). As far as premium hatchback are concerned, there aren't any real flaws with the 2018 Hyundai i20. The only real chink in its armour right now is the lack of an automatic transmission, but that will soon be addressed with the introduction of CVT equipped petrol variant. In our opinion, it looks great, boasts segment best interior quality and fit and finish, comes with a healthy list of features, drives fairly well keeping all its occupants comfortable, and brings with it the peace of mind associated with Hyundai's proven aftersales and service experience.
2018 Hyundai i20 (facelift) – Prices*
i20 Era petrol – INR 5,34,900
i20 Magna Era petrol – INR 5,99,900
i20 Sports petrol – INR 6,59,400
i20 Asta petrol** – INR 7,11,500
i20 Asta (O) petrol – INR 7,90,500
i20 Era diesel – INR 6,73,000
i20 Magna Era diesel – INR 7,31,000
i20 Sports diesel – INR 7,83,400
i20 Asta diesel** – INR 8,35,900
i20 Asta (O) diesel – INR 9,15,500
*Ex-showroom Delhi
**Dual Tone option costs INR 25,000 extra
2018 Hyundai i20 review, test drive - Image Gallery
Hyundai i20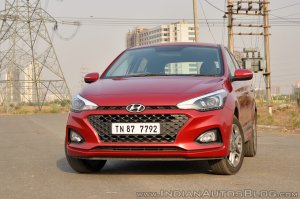 Product Name: 2018 Hyundai i20 1.2 Petrol Asta(O)
Product Description: 2018 Hyundai i20 brings with it exterior and interior updates and new colour options.
Price: 7,90,500
Currency: INR
Availability: InStoreOnly
Looks

Interior & Features

Engine & Transmission

Ride & Handling
Summary
What we like
- Looks
- Class-leading cabin quality and fit and finish
- One of the best touchscreens in the business
What we don't like
- Performance from 1.2 L petrol is adequate at best
- No request sensor for keyless entry on passenger side