Several months, options, arguments, studies and designers later, the all new IAB is finally on air. It's taken us a lot of time and effort on what looks like a very simple job.
We conducted several studies with our traffic statistics to understand where our readers come from and what their screen and browser settings are. We also studied the heat map showing where our readers clicked and accordingly setup our navigation.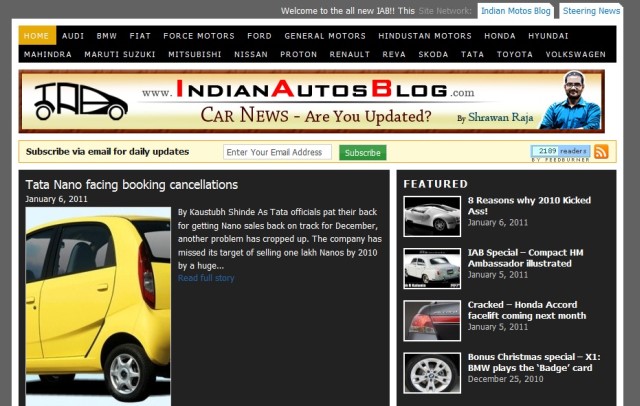 We figured that the spyshots and SRK's renderings were among the popular sections and decided to give them dedicated space on the sidebar. We're looking at many options at this point on what else we can show there. We have a video bar which will feature our videos regularly from now.
We also received complaints on important updates hiding and becoming untraceable with time as new ones occupied the front page. Hence we have given 4 slots on the top right of the blog where important posts from the recent past will appear. Additionally, we are setting up a "Popular" section on the front page that will show some of the important developments we have first hand account of like launches and press conferences. We plan to display titles of famous posts on the sidebar, we will work on this in the future.
We received flak from our readers for having placed the RSS subscription button in the bottom right of the page where no one could see it. We have moved both the email subscription as well as the RSS feed icon on top and the bottom of every post so that your friends visiting us for the first time will spot them almost immediately and keep track of us daily.
We have worked on optimizing the font and titles to be easier on the eye.  We reduced vertical scrolling and got rid of the horizontal scroll. Tweet and Facebook Like buttons have also been provided under every post so that sharing content with your friends through these platforms is now very easy.
The comment section has received a thorough overhaul. Leaving your comments is easier and faster.
As many of you know we have two other websites - Indian Motos Blog - a motorcycle blog with news and opinion, and Steering News - a fruit salad that deals with anything that has a wheel. We believe displaying recent updates from those websites on IAB's footer was important and gives readers variety.
We have taken more than a day to install this theme. We are working on making all the links work properly. We are also working on making the site appear without bugs on other browsers such as Chrome and older Internet Explorers. We will work tonight to fix all the errors.
We need your help!
We need you to tell us if there are any errors on this theme. We'd love to hear your feedback. If there is something that will make the site better, we're all ears to it.
Thank you once again for visiting Indian Autos Blog. We endeavor to keep you up to date with developments on your favorite cars.