Sep 13, 2013 - 1:24pm IST
Filed under Ford, 2013 Frankfurt Motor Show, Ford Focus
Frankfurt Live - 1.0L EcoBoost powered Ford Focus emits just 99g/km of CO2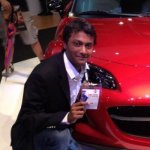 Nithyanandh K, As a toddler, those wheeled machinery fascinated me even before I knew what they're called as! So here I'm, petrolhead by birth, Mechanical engineer by qualification and automotive reporter by profession!
The Ford Focus powered by the cleaner version of the award winning 1.0-litre EcoBoost petrol engine has been unveiled at the Frankfurt Motor Show.
The carmaker claims that when this Focus EcoBoost variant goes on sale in 2014, it will be the most fuel efficient petrol family car in Europe and will also be the first petrol powered family car to emit less than 100 g/km of CO2.
Powered by the 1-litre EcoBoost, the power output stands at 100PS (regular version produces 125PS). Apart from detuning the engine, Ford has also incorporated its ECOnetic Technology which involves low rolling resistance tires, unique aerodynamics and revised gearing. The result is an impressive fuel economy figure of 4.3L/100km (23.25kpl). The car emits 99 g of CO2 per km.
It's to be noted that this is the third Focus variant to be powered by the 1-litre EcoBoost. The other two variants are mapped differently and make 125PS and 100PS (109g/km of CO2) of power.
Barb Samardzich, European ProductDevelopment vice president of Ford said -
Just a couple of years ago few would have thought that a medium-sized petrol carcould break the 100g/km CO2 barrier.
More details can be found in the press release on page 2.
Ford Focus 1.0 litre EcoBoost 99g/km CO2 Image Gallery
Ford Focus 1.0 litre EcoBoost 99g/km CO2 - Press Release
[Can't view the press release? Head to Scribd]