Sep 10, 2012 - 11:39am IST
Filed under Land Rover, Range Rover
Video: Catch the 2013 Range Rover in action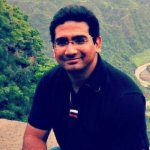 Kaustubh Shinde, They say sooner or later your passion finds you. Sometime in late 2009, I started writing for IAB and ever since then it has been a roller coaster ride for me. An amazing experience that has taught me a lot, taken me to new places, driven some great cars and met some amazing people. When you don't find me on IAB (very rarely), you will find me either at a coffee shop or an eatery or at the nearest gadget store. Hope you enjoy IAB as much as we do!
Last few weeks, IAB is going gaga over the 2013 Range Rover that was unveiled at a glittering ceremony at the Royal Ballet School in London's Richmond Park.
[can't see the video above? Head over to Youtube]
The fourth generation Range Rover is a huge leap of technology and engineering for Land Rover. This is also the most aerodynamic Range Rover ever made.
Here is a short video of the 2013 Range Rover demonstrating its skills in action.
If you want to know all that is new in the new 2013 Range Rover, head to our comprehensive deep dive over here.
Land Rover is betting big on the 2013 Range Rover. It has invested close to £370 million to update its UK manufacturing facilities to support the new SUV. The production needs to be up to the mark as the new Range Rover will go on sale in over 170 countries. The factory has created close to 1,000 jobs in design, product development and manufacturing.
The new factory will also support the Jaguar XF Sportbrake and the exciting new Jaguar F-Type sports car.