Sep 02, 2012 - 6:40pm IST
Filed under Volkswagen, Volkswagen Golf
All new Volkswagen Golf Interiors exposed!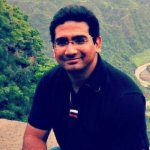 Kaustubh Shinde, They say sooner or later your passion finds you. Sometime in late 2009, I started writing for IAB and ever since then it has been a roller coaster ride for me. An amazing experience that has taught me a lot, taken me to new places, driven some great cars and met some amazing people. When you don't find me on IAB (very rarely), you will find me either at a coffee shop or an eatery or at the nearest gadget store. Hope you enjoy IAB as much as we do!
Volkswagen is gearing up for perhaps the most important launch of the whole year. Paris will witness the unveiling of the seventh generation Volkswagen Golf (MK7).
Autobild has presented with brochure scans of the Volkswagen's Golf interior and we like what we see.
Being Volkswagen's identity car, the interiors exude top notch quality. We see a new design of steering wheel which has a flat bottom. Black glossy finish spokes of the steering stand out quite nicely. The steering mounted buttons also get a new design.
The multifunction LCD display has new look, but the HVAC controls are similar to the 2012 Beetle. The air vents are also changed. The center console is conservative and is very similar to the current generation VW Passat. VW had promised that it will offer premium features on its mass market cars and perhaps the Golf is the first stepping stone. But there is more to the story.
Remember, Volkswagen Group is betting big on component sharing in the future. All VW, Skoda and Audi models will share the same parts and components to keep the cost down.
So perhaps in the future, these components/design would trickle down to the replacement models of the Polo, Laura and even the Jetta.
For a comprehensive product deep dive of the seventh generation Golf, head to this link
[Source: Autobild.de via Noticiasautomotivas.com.br]