Aug 31, 2012 - 9:00am IST
Filed under Skoda, Skoda Yeti
Special Edition Skoda Yeti Sochi showcased at Moscow Motor Show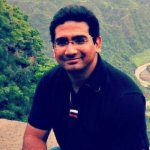 Kaustubh Shinde, They say sooner or later your passion finds you. Sometime in late 2009, I started writing for IAB and ever since then it has been a roller coaster ride for me. An amazing experience that has taught me a lot, taken me to new places, driven some great cars and met some amazing people. When you don't find me on IAB (very rarely), you will find me either at a coffee shop or an eatery or at the nearest gadget store. Hope you enjoy IAB as much as we do!
The Volkswagen Group is the official partner of the 2014 Winter Olympics which will be held at Sochi in Russia.
To celebrate the marriage, Skoda, the Czech car company that's part of the Volkswagen Group, has presented a limited edition Skoda Yeti Sochi.
You can compare this action to the VW Vento IPL special edition that was marketed during the last two seasons of the tournament.
What's so special about the Special Edition Skoda Yeti Sochi?

Candy white finish
Dark alloys
Winter Games badging
Blue and black interior colour scheme featuring Winter Games logos
Contrast blue stitching on the steering wheel, handbrake and gear lever
The Skoda Yeti Sochi is powered by a 1.8 TSI engine producing 148 bhp mated to a seven-speed DSG gearbox sending power to all four wheels using a Haldex four wheel drive system.
Russia is a very important market for Skoda products. By the year 2018, Skoda is hoping to sell at least 1.5 million cars a year and Russia is an important growth market for achieving those figures. The Volkswagen Group is lobbying the government to bring Russian fuel and emissions standards in line with the rest of Europe.
[Source: Autoexpress.co.uk]