Aug 04, 2012 - 12:46pm IST
Filed under Toyota, Etios Motor Racing
Toyota flags off first exhibition race of Etios Motor Racing series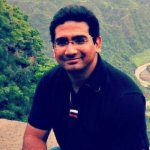 Kaustubh Shinde, They say sooner or later your passion finds you. Sometime in late 2009, I started writing for IAB and ever since then it has been a roller coaster ride for me. An amazing experience that has taught me a lot, taken me to new places, driven some great cars and met some amazing people. When you don't find me on IAB (very rarely), you will find me either at a coffee shop or an eatery or at the nearest gadget store. Hope you enjoy IAB as much as we do!
We are at the MMSC race track witnessing history in the making. Toyota India has flagged off the first exhibition race of the Etios Motor Racing (EMR) here in Chennai. Toyota has also presented 25 promising racing drivers that will be part of the new racing series. These drivers are selected after a rigorous qualification and elimination process.
The Etios Motor Racing series was unwrapped at the 2012 New Delhi Auto Expo. Soon after the Expo, Toyota started promoting EMR through its dealers with a series of promotional activities.
There are other host of activities over here such as Karting Zone, Children learning zone, 'Design your EMR car', SUV Zone and Celebrity races as well. Ex-TopGear Stig - Ben Collins will also be here tomorrow doing some hot laps of the Circuit.
The EMR is part of Toyota's brand new marketing campaign called Waku Doki which means excitement, joy and fun. EMR aims to popularize motorsports in India right from the grassroots level.  Toyota held registration process of the EMR at 14 different cities. They received over 8000 registrations. Then, a fourfold elimination process resulted in 25 selected drivers. These 25 contestants were trained and honed in training camps by leading racing experts.
Pointers from the Press Conference
Toyota India does not have any plans for a cross brand races (Polo Cup vs EMR) because that would require identical cars which is difficult.
As it is called the Etios Motor Racing series, currently only the sedan will race, but in the future they will use the Liva as well
Second exhibition race will be held at the Buddh International Circuit in the month of October
The race calendar will start in 2013