Jul 19, 2012 - 9:53am IST
Filed under Spy pictures, Tata Nano, Tata Nano
Spied - Tata Nano LHD spotted in Pune; Almost ready to hit the left hand drive market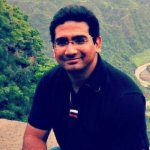 Kaustubh Shinde, They say sooner or later your passion finds you. Sometime in late 2009, I started writing for IAB and ever since then it has been a roller coaster ride for me. An amazing experience that has taught me a lot, taken me to new places, driven some great cars and met some amazing people. When you don't find me on IAB (very rarely), you will find me either at a coffee shop or an eatery or at the nearest gadget store. Hope you enjoy IAB as much as we do!
Back in April, we bought you a scintillating story of Tata Motors working on a Left Hand Drive (LHD) version for the export markets. The jolly blokes at Motorbash have brought us exclusive images of an LHD Tata Nano spotted in Pune.
The interior shots reveal that apart from the position of the steering wheel, nothing has been changed on the inside. MotorBash also reveals that the LHD Tata Nano gets a meatier front wiper than a regular one.
It must have been very easy to convert the Tata Nano to LHD because the instrument binnacle of the Nano is in the center.
Around 200,000 Nanos have hit the roads till date. Sadly, Tata Motors have consistently missed their target of 250,000 units annually since the last three years. The sales figures have wildly swung from 10,000units/month to just 500 odd units in some months. Despite of the lack luster performance, the visionary Ratan Tata still has immense faith in his dream project which completed its 3 years since the launch. Yes ladies and gentlemen, the Tata Nano is now 3 years old!
The Tata Nano exports have been restricted only to Indian sub-continent so far. Most of the markets in the sub-continent are RHD markets.
The LHD Nano opens up immense potential for exports to emerging economies such Africa, South America and South-East Asia. Hopefully, the export demand will also help Tata Motors utilize its full capacity at Sanand.
[Source: Motorbash.com]