Jul 24, 2012 - 1:54pm IST
Filed under Hyundai, Hyundai HB
Hyundai teases HB20 - Fluidic i20's Brazilian sister is equally hot!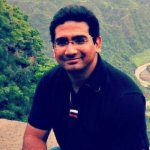 Kaustubh Shinde, They say sooner or later your passion finds you. Sometime in late 2009, I started writing for IAB and ever since then it has been a roller coaster ride for me. An amazing experience that has taught me a lot, taken me to new places, driven some great cars and met some amazing people. When you don't find me on IAB (very rarely), you will find me either at a coffee shop or an eatery or at the nearest gadget store. Hope you enjoy IAB as much as we do!
Just like India, the Brazilian market is getting all new models from Hyundai. We got the Hyundai Eon which was designed and engineered specially for India. Brazil will get the HB20 which is like a cousin sister of the i20. Hyundai has unveiled teaser shots of the HB20 scheduled for launch in the coming months.
The HB20 will be Hyundai's answer to the Volkswagen Gol and Fiat Punto in Brazil. It is based on the European i20 platform. It encapsulates Hyundai's new Fluidic design philosophy, which very similar to the fluidic i20.
It will be powered by a 1.0 three-cylinder engine used in the Kia Picanto hatchback, which generates 80 hp. There will also be a more powerful 1.6 DOHC engine with 130 hp. Both engines are compatible with ethanol. This engine is married to a manual gearbox or a four-speed automatic.
Hyundai HB20 features
Sound system with CD/AUX/USB
Tilt adjusted steering wheel with mounted controls
Power steering/windows/locks
Electrically operated OVRMs
Rear parking sensor
15 inch alloy wheels with tires 185/60
Fog lights
Parking sensors
ABS is optional but driver and passenger airbags are standard across variants.
The Hyundai HB20 will be manufactured in the new facility in Piracicaba (Sao Paulo) with production starting on September 20. The HB20 is expected to hit the stands in Brazil in the first week of October. It will be sold via 130 dealerships which will be further increased to 200 by the year end.
IAB does not expect HMIL to introduce the HB20 in the same as we expect Hyundai Brazil or Hyundai Deutschland to not launch the Eon or Santro.
[Source: Noticiasautomotivas.com.br]