Jul 15, 2012 - 4:56pm IST
Filed under BMW, BMW 3 Series
IAB reader spots BMW 3 Series publicity cars; IAB spots a 3 Series teaser in Chennai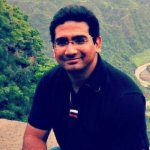 Kaustubh Shinde, They say sooner or later your passion finds you. Sometime in late 2009, I started writing for IAB and ever since then it has been a roller coaster ride for me. An amazing experience that has taught me a lot, taken me to new places, driven some great cars and met some amazing people. When you don't find me on IAB (very rarely), you will find me either at a coffee shop or an eatery or at the nearest gadget store. Hope you enjoy IAB as much as we do!
Campaign 1 - BMW 3 Series publicity cars in metros
Just yesterday, we brought you an exclusive story that BMW India will send QR coded cars on to streets of most major cities in India. And what do you know! Our good friend Fenin Rexo (who earlier got in touch with us for spotting the Chevy Enjoy) has spotted the publicity car convoy on the streets of Bangalore.
The car is enveloped in a white paper with QR codes all over it. If you scan these QR codes using your smartphone, it will take you to the new 3 Series's website.
More importantly, you have every right to stop these QR codes cars and ask the drivers for more information. The drivers will not say much but will give you small postcards that contain information on the new BMW 3 Series. Don't forget to take the pictures of the QR codes cars and send them to IAB. We are waiting for more reader contributions!
Campaign 2 - BMW 3 Series mall activation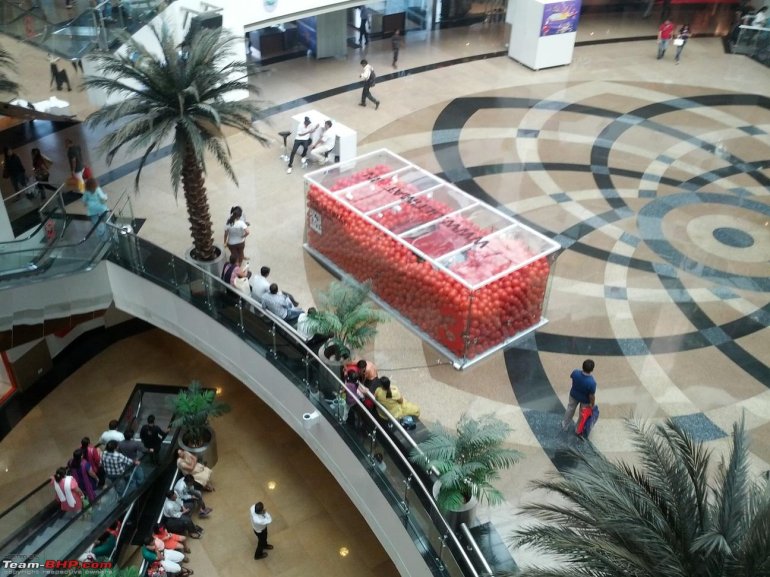 The second campaign is a mall activation activity. Vijayvb, a member of TeamBHP, brings us an image of a glass box filled with red balls at Infinity Mall (Mumbai) and you can clearly see a car inside. Yes, that is the new 3 Series. Our sources have confirmed that gradually the number of balls will be reduced as we approach the D-Day of July 27.
Yes, you heard it first over here friends. BMW will showcase the all new BMW 3 series (F30) on 27th of July. But if you see the website, it says that the launch date is 19 days from now. This is because on 27th of July, the new BMW 3 Series will only be showcased. On the 3rd of August, the company will officially launch the new 3 Series in India. And boy! are we excited or what!
Campaign 3 - The new 3 is coming soon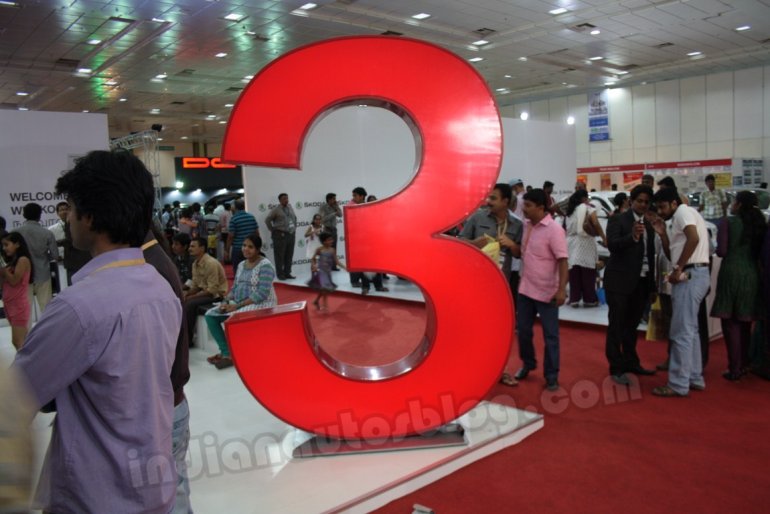 BMW has quietly placed a sign saying 3 (connoting the new 3 Series) at the Chennai Auto Expo at the Chennai Trade Center in Nandambakkam. IAB visited the show today morning and spoke to the representatives manning the stall. They sounded very optimistic about the new 3 Series' entry.
The new BMW 3 Series is going to be a game changer. BMW India has been under immense pressure from Audi for market leadership position. In the month of June, Audi, for the first time in history, outsold BMW by 9 units. We would like to remind you that BMW has been the king-of-the-hill in the Indian luxury market since 2008.
Clearly, the new BMW 3 Series has a massive responsibility of creating a new divide between BMW and rest of the competition. BMW India will leave no stone unturned for the launch of the new 3 Series. It is going to spend huge moolah for the pre-launch and post launch marketing activities.
Stay hooked to IAB as we cover updates by the minute of this game changing sedan.
[Mall image by Vijayvb of Team-bhp.com]