Jul 30, 2012 - 6:33pm IST
Filed under Chevrolet, Tuning, modified cars
BigDaddyCustoms does it again - A Ford Mustang Eleanor Replica based on...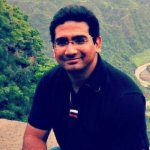 Kaustubh Shinde, They say sooner or later your passion finds you. Sometime in late 2009, I started writing for IAB and ever since then it has been a roller coaster ride for me. An amazing experience that has taught me a lot, taken me to new places, driven some great cars and met some amazing people. When you don't find me on IAB (very rarely), you will find me either at a coffee shop or an eatery or at the nearest gadget store. Hope you enjoy IAB as much as we do!
The boys at BigDaddyCustoms are at it again. Frankly, we have not yet met these lads but their work continues to impress us every passing week. After designing the Range Rover Evoque based on the Tata Safari, the chaps have now based a Mustang Eleanor '67 Replica on..well you will never guess this one!
Before we get to the donor car, you must be wondering "Hmm Eleanor; Where have I heard this name?"
The Eleanor was a trademarked name given to a 1973 Ford Mustang Mach 1 for its role in the 1974 film Gone in 60 Seconds. In 2000, the producers decided to revive the Gone in 60 Seconds with the new Eleanor based on the Shelby GT500.
BigDaddyCustoms have managed to re-create the magic of the Shelby GT500 based on a humdrum Chevrolet Optra . Yes my dear friends, this bad ass American muscle is based on the Chevrolet Optra (Daewoo Lacetti for our international audience, more popular know as the 'Reasonably Priced Car' from TopGear)
As one can see, the four door sedan has been comprehensively remodeled to convert it into a fastback design. It features fiber glass complete steel and aluminium body work  (BigDaddyCustoms just confirmed that for us) with a custom silver paint job with racing stripes. Custom alloy wheels with chunkier rubber add to the muscle car look.
It is definitely an extremely good replica to pay homage to a legend. We couldn't have asked for a better start to a Monday!
Head over to BigDaddyCustoms facebook page to show them some appreciation again :-)
Ford Mustang Eleanor Replica based on the Chevrolet Optra