Jul 06, 2012 - 5:17pm IST
Filed under Honda, Car Reviews, Honda City review
2012 Honda City Driving Review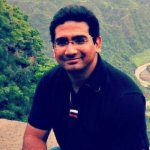 Kaustubh Shinde, They say sooner or later your passion finds you. Sometime in late 2009, I started writing for IAB and ever since then it has been a roller coaster ride for me. An amazing experience that has taught me a lot, taken me to new places, driven some great cars and met some amazing people. When you don't find me on IAB (very rarely), you will find me either at a coffee shop or an eatery or at the nearest gadget store. Hope you enjoy IAB as much as we do!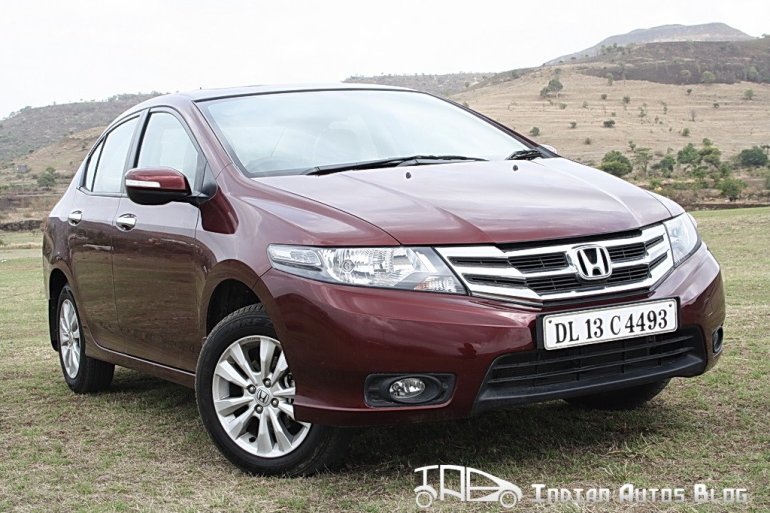 The old Honda City was a true icon. Though petrolheads would go from pillar-to-post to find one in mint condition, people who have one in mint condition love their baby so much that wouldn't let go of it even for a million dollars.
So the new Honda City has a massive reputation to live up to. So let's figure out whether the Honda City lives up to its stature.
What powers the Honda City?
The Honda City is powered by a 1.5L 4 cylinder, 16 valve i-VTEC engine, developing 118 PS of max power at 6,600 rpm and a maximum torque of 146 Nm at 4,800 rpm. This is one of the best affordable petrol motors on sale in India.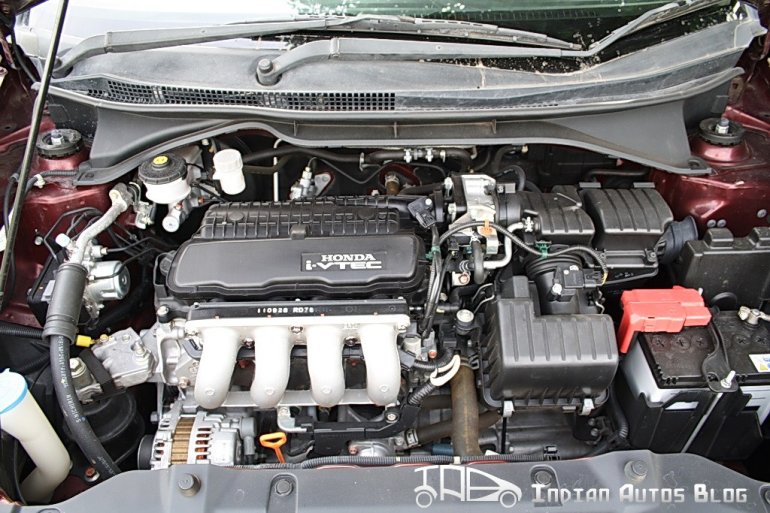 Crank the engine and it immediately settles into a gentle hum. Both low-end and high-end torque is impressive but mid-range is a bit dull. Like most Honda engines, it loves to be revved all the way to redline. And on the redline, it is such a screamer!
Mated to a 5-speed manual gearbox, the delivery of power is smooth and consistent throughout the rev band. Both within the city and on highway, the Honda City proves to be a capable machine.
Thanks to the relatively light weight of 1,095 kg, the City can do 100 kph in under 10 seconds. The gearshifts are very positive and the gates are very precise to avoid mis-shifts. High speed stability is commendable; even at speeds of over 140kph, we felt very positive about the high speed dynamics.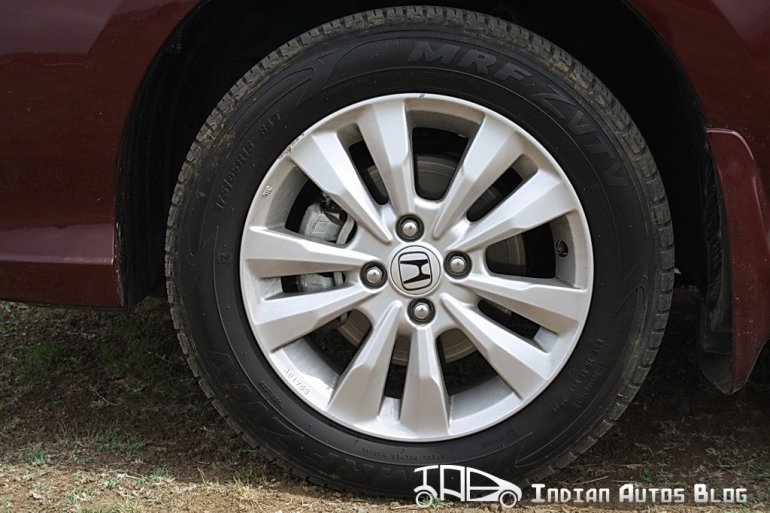 The Honda City gets Electronic Power Steering system (EPS) which does replicate accurately all things happening at the wheels. Within city circumstances, the EPS is a boon to steer, park and reverse. But on twisty windy roads, the non-communicative steering wheel fails to put a smile on your face. Adding to that, the 175/65/R15 tyres are just not meant for the job.
A little aggressive cornering and tyres start squealing under pressure. A tyre upgrade is a must to get the maximum out of your City.
The ride is very compliant. It absorbs most potholes and even undulated roads. There is minimum body roll in corners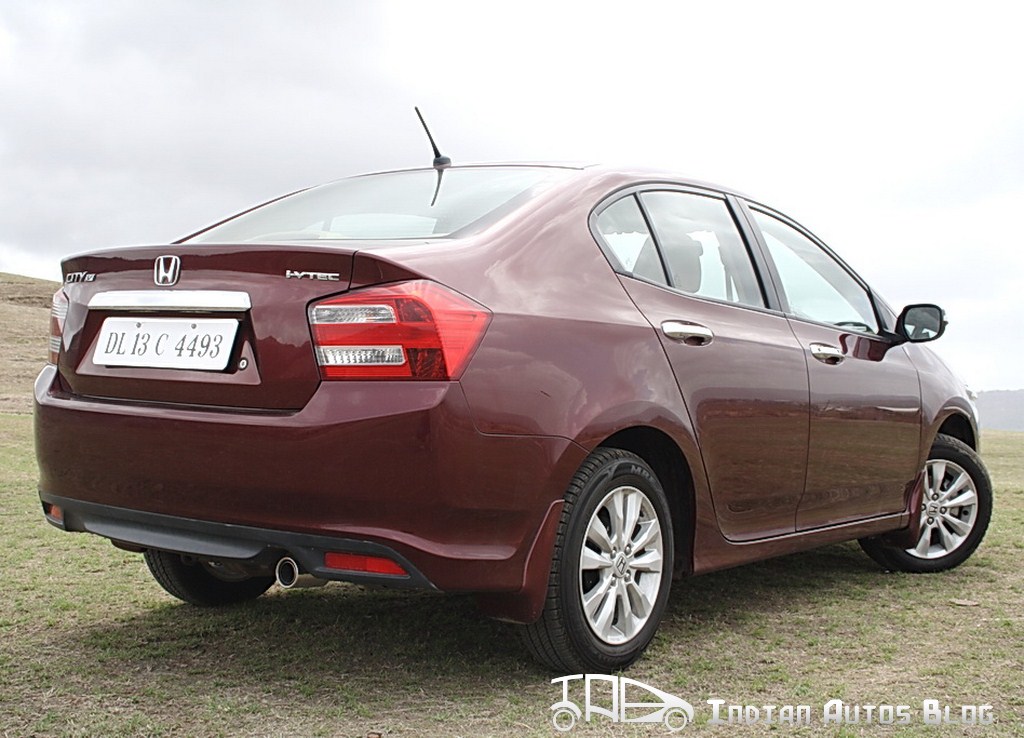 The Honda City may be the most powerful sedan in the segment, only second to the Hyundai Verna. However, it only gets disc brakes in the front and drums at the back. Even the Fiat Linea T-Jet, which is less powerful than the City, gets four discs. Thanks to drums at the back, the braking is just adequate and not perfect.
What about fuel economy?
On our trip of 300 km, we got an average fuel economy of 12 kmpl. To be fair, most of it was sheer aggressive driving. However one could push it to 15+ if constantly driven in the ECO mode.
What about safety features?
The Honda City gets its fair share of safety features:
ABS with EBD
Dual SRS airbag
The Honda City is not EuroNCAP tested but has a G-CON (G-Force Control Technology) certification. G-CON is Honda's internal crash testing standards in which the car is tested for front, rear and side impact at around 50-60 km/hr.
What did I not like about the drive?
Although the Honda City has 118 PS at hand, it does not 'feel' fast.
The steering lacks feel at high speeds.
Fuel efficiency is a major concern especially with such a high revving engine.
Very limited driver involvement.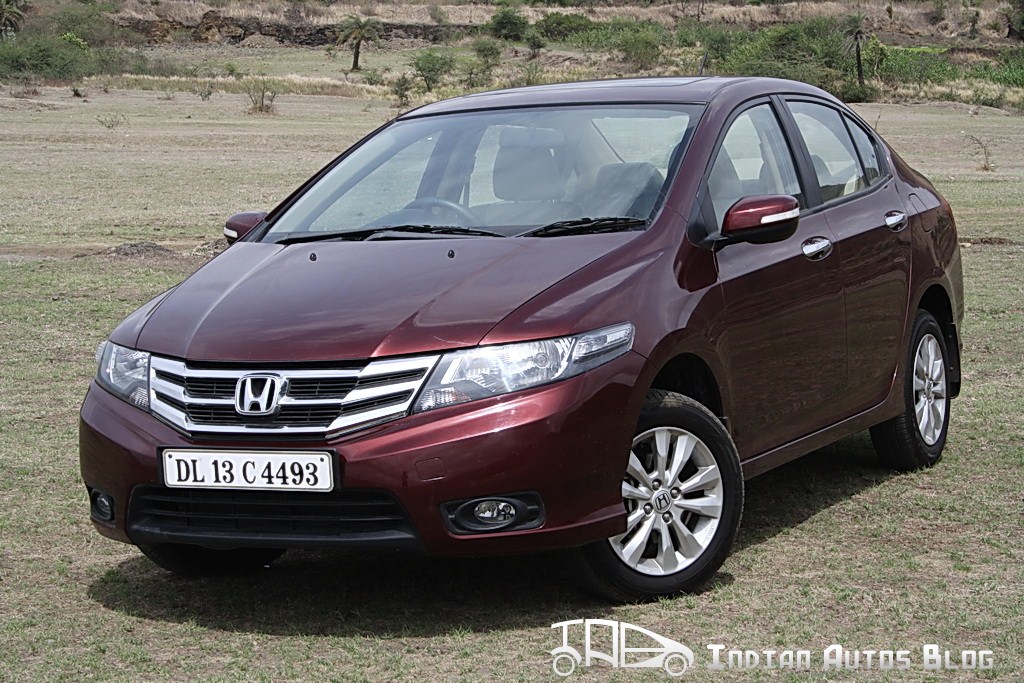 The inevitable – 'Where is the diesel' question
Honda has recognized the fact that in order to stay afloat in the market the company needs to have diesel in its portfolio. It is already testing a diesel engine in the Brio all across India. But the Honda City diesel will take some more time to materialize. We'd love to see Honda bring the diesel City before the diesel Brio.
Until then, we would love to see a factory fitted CNG/LPG on some of the variants.
The Honda City is a perfect companion for someone looking to invest in a petrol sedan for more than 5-6 years. However don't mistake it for a boy racer's dream machine. It's all grown up now. The soft, comfortable ride and the beige interior are all clear giveaways of its target market. It has an exceptional petrol engine and a very compliant ride. The localization efforts have certainly brought in the added advantage of lower price making it the best petrol sedan on the market.