Jun 25, 2012 - 11:30am IST
Filed under Mahindra, Spy pictures, Mahindra Verito
Will Mahindra bestow the Verito facelift with LED lamps?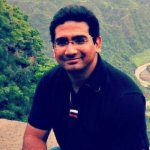 Kaustubh Shinde, They say sooner or later your passion finds you. Sometime in late 2009, I started writing for IAB and ever since then it has been a roller coaster ride for me. An amazing experience that has taught me a lot, taken me to new places, driven some great cars and met some amazing people. When you don't find me on IAB (very rarely), you will find me either at a coffee shop or an eatery or at the nearest gadget store. Hope you enjoy IAB as much as we do!
Our friends at MotorVikatan have managed to snap the Mahindra Verito facelift testing in Chennai. It is no secret that the Verito is up for a facelift very soon. Mahindra intends to bring the design of the Verito closer to the Mahindra family.
Ever since Mahindra bought the rights of the manufacturing the Logan in India from Renault, the sales numbers of the Verito grew with time. Currently clocking a good 1,500 units every month, the facelift will surely pump extra life into the sales figures.
We have already presented a rendering of what the future Verito would look like. However, MotorVikatan's  images reveal something different. The top part of the Verito's headlamp is camouflaged. This is understandable because we presume that Mahindra will give a horizontal indicator to make it look modern and edgy.
Why is the bottom part of the headlamp camouflaged? Is Mahindra planning to give the Verito a strip of LED DRLs just like the XUV500? Considering Mahindra wants to move the Verito away from the Taxi market, this certainly is a move in the right direction. LED DRLs are perceived to add more snob value to the car because all luxury manufacturers provide them in their sportscars, SUVs and grand tourers. Its a minor addition, but none of the Verito's competitors have that feature.
The Logan's image took a massive beating when the largest fleet operator in India - Meeru converted it for Taxi purposes. Mahindra's recent attempts have been to clean that image with the help of renewed TV ads and internet marketing. The facelift will have more luxury cues such as chrome garnish, alloy wheels, etc indicating that Mahindra wants the Verito to be a family car.
In such a scenario LED DRLs would work wonders for the public image as it did for the XUV500.
[Source: MotorVikatan]