Jun 15, 2012 - 12:24pm IST
Filed under Volkswagen, VW Vento
VW Vento to be launched in China to replace an old Jetta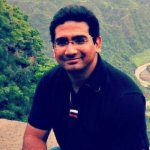 Kaustubh Shinde, They say sooner or later your passion finds you. Sometime in late 2009, I started writing for IAB and ever since then it has been a roller coaster ride for me. An amazing experience that has taught me a lot, taken me to new places, driven some great cars and met some amazing people. When you don't find me on IAB (very rarely), you will find me either at a coffee shop or an eatery or at the nearest gadget store. Hope you enjoy IAB as much as we do!
Volkswagen India pulled a masterstroke by introducing the Vento in India. Take a Polo, stretch it, attach a boot and BANG! you have a winner. It didn't end there - You then mildly redesign the front and rear fascias to sell it as a Skoda and almost double your sales.
The Vento also went to many international markets after its India debut. In South Africa, it is sold as the Polo sedan. Next, the Vento heads to China to replace an old generation Jetta.
The Vento that heads to China has slightly different headlamps if you compare it to the Indian version. It will be offered with 1.4L and 1.6L petrol engines. It will be manufactured in Chengdu via the FAW-VW joint venture. The company has restricted the production this year but the capacity will be expanded to 270,000 vehicles in 2013.
ChinaCarTimes reports that the 1.6L Vento will mostly become taxis, police vehicles, government fleet cars, etc. Chinese family customers will mop up the 1.4L version of the Vento.
[Source: Chinacartimes.com & auto.sohu.com]