Jun 29, 2012 - 1:58pm IST
Filed under Suzuki, Suzuki Jimny
Suzuki Jimny mini SUV gets a facelift for the Spanish market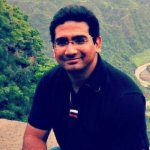 Kaustubh Shinde, They say sooner or later your passion finds you. Sometime in late 2009, I started writing for IAB and ever since then it has been a roller coaster ride for me. An amazing experience that has taught me a lot, taken me to new places, driven some great cars and met some amazing people. When you don't find me on IAB (very rarely), you will find me either at a coffee shop or an eatery or at the nearest gadget store. Hope you enjoy IAB as much as we do!
The Maruti Gypsy may have been long forgotten to an average Indian consumer. The Gypsy is called the Jimny in international markets. The latest generation Jimny, that's as old as some of our younger readers, has been revised for 2012. Believe it or not, the Jimny you see here was launched in 1997.
A successor to the Jimny is expected in the next couple of years. The production version of the XA Alpha Concept could be a good Jimny replacement, but nothing is for certain now.
The Jimny facelift features redesigned bumpers, a set of foglights mounted on a different location, and an air intake mounted on the hood. Redesigned rear bumpers, a new spare wheel design and new taillights grace the rear. The Jimny facelift also features a new range of alloy wheels and interior upgrades.
It is powered by the same 1.3 liter petrol unit generating 85 hp and 110 Nm of torque. Power goes to the wheels via a five-speed manual transmission.
As mentioned earlier, the facelifted Jimny will be on the market for just a year before an all-new model replaces it.
The XA Alpha Concept represented a compact SUV that Suzuki could develop if it feels the need to challenge the EcoSport and Duster. While the Jimny does not scream much in terms of practicality, the XA Alpha represented a grown up SUV for urban needs.
A new direction is just what the Jimny needs to become a mainstay in Suzuki's portfolio complementing the Swift and SX4.
[Source: Es.autoblog.com]