Jun 15, 2012 - 1:20pm IST
Filed under Hyundai, Commercials, Hyundai i10
Hyundai India finally highlights car features in the new i10 commercial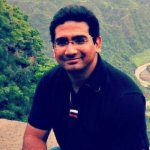 Kaustubh Shinde, They say sooner or later your passion finds you. Sometime in late 2009, I started writing for IAB and ever since then it has been a roller coaster ride for me. An amazing experience that has taught me a lot, taken me to new places, driven some great cars and met some amazing people. When you don't find me on IAB (very rarely), you will find me either at a coffee shop or an eatery or at the nearest gadget store. Hope you enjoy IAB as much as we do!
I guess our story of how the automotive marketing men in India need to learn from the international advertisements have reached Hyundai's table.
[Can't see the video above? Head over to the Youtube page to see it]
The Korean automaker has released a new TV commercial for the Hyundai i10 in which it highlights all the features on the product.
Sure, there is a massive hand that pushes the car around and then knocks Shahrukh Khan on his head, but a start is a start. 'Massive hand that pushes the car around' ..what are you talking about, you ask?
Well, you will see it to believe it.