Jun 12, 2012 - 2:29pm IST
Filed under Volkswagen, VW Up!
5-door Volkswagen Up! graces the UK market; Priced from 7.24 lakhs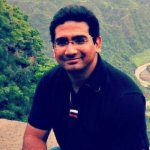 Kaustubh Shinde, They say sooner or later your passion finds you. Sometime in late 2009, I started writing for IAB and ever since then it has been a roller coaster ride for me. An amazing experience that has taught me a lot, taken me to new places, driven some great cars and met some amazing people. When you don't find me on IAB (very rarely), you will find me either at a coffee shop or an eatery or at the nearest gadget store. Hope you enjoy IAB as much as we do!
The much awaited 5-door version of the Volkswagen Up! hatchback hits the UK market for a sum of £8,360 which converts to 7.24 lakh rupees. The 5-door version is GBP 365 (around Rs 30,000) more expensive than the 3-door model. The vehicle comes with the same dimensions as the 3-door model, and also offers the same features.
The Volkswagen Up! is available in three variants and we love what's on the menu - Take up!, Move up! and High up!
Volkswagen also has special edition 'up! Black' and 'up! White' models. There is also a BlueMotion pack for the Up! which offers up to 28kmpl!
It is powered by the same 1.0L, three-cylinder engine generating 60hp or 75 hp. An all-electric version is set to arrive next year. VW India is sitting on the fence when it comes to the launch of the Up!. Manufacturing the Up! for 3-4 lakh rupees will be one hell of an ask.
Volkswagen has asked its engineers to re-engineer the Up! for the Brazilian market. A similar re-engineering operation is needed if the cost targets have to met for the Indian market.
The re-engineered Up! is expected to debut in early 2013. VW India officials have said that they will take a definitive stance on Up!'s debut in India by the end of this year.
[Source: Carscoop.blogspot.com]