May 29, 2012 - 4:09pm IST
Filed under Volkswagen, VW Polo
VW gifts the Polo Black Edition to Germany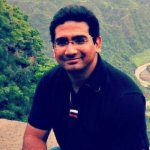 Kaustubh Shinde, They say sooner or later your passion finds you. Sometime in late 2009, I started writing for IAB and ever since then it has been a roller coaster ride for me. An amazing experience that has taught me a lot, taken me to new places, driven some great cars and met some amazing people. When you don't find me on IAB (very rarely), you will find me either at a coffee shop or an eatery or at the nearest gadget store. Hope you enjoy IAB as much as we do!
IndianAutosBlog.com readers are aware that Volkswagen frequently brings out special edition model for the domestic market as well as region-specific cars such as the IPL Special Edition.
VW has just unveiled the Polo Black Edition for the German market. The Polo is one car that can walk away looking good with heavy customization.
In the latest effort, VW Germany has decided to give it subtle updates and call it Polo Black Edition.
The Polo Black is a normal four-door Polo which is completely black and has special 'Rivazza' alloy wheels. The interiors are wrapped in black leather with 'light breeze' accents to highlight the interiors.
No official information is available on the price but looking at the customization, we think it should not be very expensive!