Dec 15, 2009 - 10:45am IST
Filed under Bayer, Tata Nano, Tata Nano
Bayer Nano - The ultimate promotional vehicle
Ashwin Ram N P, Ashwin is a guy with a slightly unorthodox perception of everything. His struggle to choose a career path, between art and automotive engineering, has landed him in the field of auto journalism, where he has paved way for himself to practise both.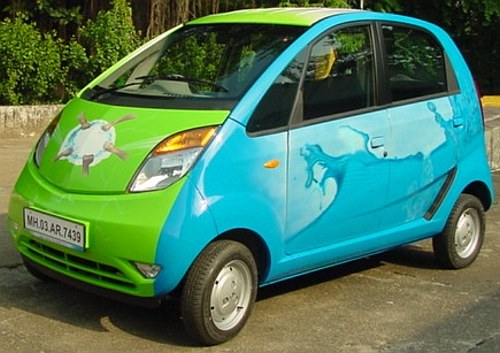 Bayer's Nanos have all sorts of paint schemes highlighting the company's range
German company Bayer recently bought three Tata Nanos in Mumbai. Rather than taking it to the temple or visit relatives, they scooted the Nanos into a paint shop and covered the cars with all sorts of colors. This gives a distinguished feel to the vehicles and by all odds will grab everyone's attention on the road.
Bayer will use the Nanos to ferry employees flying to India. On weekends the car is given to local employees  for them to have fun with it. They allow them to drive their families to their favorite spots in Mumbai.
These Nano's have been repainted to cool aqua blue and bright green, fiery red and multi coloured striped colours. It is not to everyone's taste, but it serves the purpose of brand building.
Mr Gerlich Country Speaker, Bayer Group of Companies -
The Nano has been read about all over the world, and people are curious about it. When our colleagues and their families have an opportunity to use the Bayer Nano, it really makes them feel special. Besides, the car also uses some material from Bayer, so it is a win – win situation for both the companies.
Bayer is sure to magnet interest from wide and far for this move. Quick thinking and lady luck were at the same spot given the 2+ lakh bookings and up to one year waiting period for the little car.
Mr Gerlich with the Bayer Tata Nano
Source - Tata Nano Blog