Sep 08, 2009 - 6:52am IST
Filed under Hungarian Quality Product, Suzuki Ritz, Hungary, Suzuki Splash, Awards, Suzuki
Suzuki Splash/Ritz wins prestigious Hungarian Quality Product certificate
Ashwin Ram N P, Ashwin is a guy with a slightly unorthodox perception of everything. His struggle to choose a career path, between art and automotive engineering, has landed him in the field of auto journalism, where he has paved way for himself to practise both.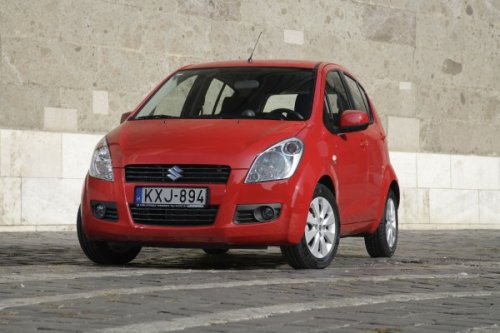 The Suzuki Splash (Ritz as we know it) has been awarded with the prestigious 'Hungarian Quality Product' certificate. The certificate is issued for the 12th year and this year, in the 'Machines, units, equipment, vehicles' category,  the Splash was picked as the winner.
As the name describes, the certificate is issued to products that meet quality levels demanded by the judges. The Splash is mass-produced in Hungary and thus was eligible for receiving the award.
click through to read the press release
Press Release
BUDAPEST, HUNGARY – September 2, 2009 – Splash, latest model of Magyar Suzuki Corporation (MSC) has been awarded with prestigious 'Hungarian Quality Product' certificate. Hungarian Product Quality Award® embodies important driving forces of competitiveness such as knowledge, innovation and quality. Products and services carrying the emblem express guarantees that the manufacturer or distributor voluntarily takes towards consumers and users. The Hungarian Quality Product Award® Ceremony in 2009 was held for the 12th time at the Parliament building.

The Hungarian Quality Product Award is a non-profit initiative which has identified in its tender the promotion of quality-sensitive attitude as the fundamental aim contributing to the establishment of conscious consumer behaviour. The applicants for the award were such exemplary models which contribute to the development of the economy, personifying and expressing Hungary's acknowledgement and commitment for attested quality through these products. Innovation and the application of active quality policy referring to reliable, premium quality products can be important alternatives of the way out from the global economic crisis, which are symbolized by the Hungarian Quality Product Award® trademark.

By nominating Suzuki Splash, under the category of 'Machines, units, equipment, vehicles', it was a pre-condition that the product or product line must be manufactured, mass-produced or distributed in Hungary. In case of Splash, Hungary is the sole European manufacturing location, where the car is produced mainly for Europe and to some overseas markets as well. In terms of looks and driving characteristics, Splash excites people all over the world. Designed as a contemporary, family-friendly all-rounder for negotiating the daily urban rush, Splash combines attractive looks and economical performance with a comprehensive safety package, technological refinements and plenty of space and comfort. With CO2 emissions of just 120g/km, the vehicle is in line with the latest European emission needs as well as requirements of environmentally conscious customers.

On behalf of Magyar Suzuki Corporation the Hungarian Quality Product Award® was received by CEO Mr Hisashi Takeuchi and vice CEO Dr László Urbán in the Upper House Hall of the Hungarian Parliament.

Announcers of the Hungarian Quality Product Award® are EXIMBANK Pte Ltd, INDUSTORG-VÉDJEGYIRODA Llc, ITD HUNGARY ZRt., MEHIB Pte Ltd, National Consumer Protection Authority, TERC Ltd. and TÜV-SÜD KERMI Llc. In addition to the above, special supporters of the Award are the Ministry for National Development and Economy, the Ministry for Local Government, the Ministry of Social Affairs and Labour and the Ministry for Environment and Water.

Background information on Splash parameters
Splash is produced with a variety of three engines (two petrol and one diesel), each of which meets the Euro 4 emissions standard. The petrol engines were newly developed by Suzuki, and the diesel engine is produced by Suzuki Powertrain at a new factory in India. The smallest engine is the 1.0-litre, three-cylinder petrol unit that can develop 48 kW (65 hp) using, on average, just five litres of fuel per 100 kilometres. The most powerful engine in the range is a 1.2-litre, four-cylinder petrol unit that's made of aluminium and smoothly delivers a maximum output of 63kW (86 hp) with fuel consumption of just 5.5 litres per 100 kilometres. The diesel engine features a 1.3-litre DDiS common-rail, four-cylinder unit that develops a maximum output of 55 kW (75 hp) and uses an average of just 4.5 litres of fuel per 100 kilometres.

Suzuki has taken a no-compromises safety approach in designing the Splash. To help the driver avoid hazards, an anti-lock braking system (ABS), a brake-assist function, and an electronic brake-force distribution are standard and an Electronic Stability Program (ESP®) is optionally available. But in the case of a mishap, the car´s body combines rigidity with superior energy absorption and dispersion and incorporates six airbags (dual front airbags, dual seat-side airbags, and dual curtain airbags that extend into the rear), front-seatbelt pretensioners and force limiters, and foot-protecting brake and clutch pedals that mitigate injuries in the event of a collision. For child safety, the rear seat incorporates ISOFIX child-seat anchorages.

Design, Comfort and practicality
# A versatile, emotionally appealing and attractive mini-MPV

# A departure from conventional boxy looks to a more streamlined, aerodynamic design

# Sporty and youthful styling expressing urban mobility

# Raised seating positions for good visibility and for easy getting in and getting out of the car

# High-mounted shift lever for easy operation

# Pleasant feeling of space; fresh colours and upholstery

# Easy-to-operate, clearly arranged buttons and instruments

# Above-average luggage capacity

# 60:40-split rear seat with one-action-folding feature to create expanded, full-flat luggage area

# Luggage-area underfloor compartment for small luggage items and emergency triangle

# Information display (showing fuel consumption and other data) in speedometer