Jul 16, 2009 - 12:45pm IST
Filed under
QOTD
QOTD - Who wears these foglamps and tires?
Paranjay Dutt, Likes to read, write, and talk about automobiles whenever he can. The rest of the time, he can be seen behind his camera. Totally fails at writing Author Info, though.
Answer to the previous question - Suzuki Swift
Congratulations to Shoeb, keshavaraj, Raj, sudarsanan, Sudhir Rajan, guru, Priyansh, Felixx, Vivek Shukla, Shakti, Monty Singh, Gurudatta, Aditya Prakash, prabakaran spide, Hapinder Harry, Monty Singh,  Fiat Fan, rajesh, krishna, Jishnu Sasidharan V,  Naveen, Adithya Arikere, Satish, Motorbeam.com, The Automotive India, Harish Kumar, Sushil,  Lalit, deepam, modifii, Happy
Today's Question -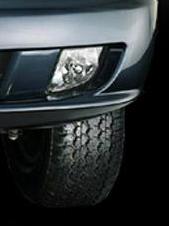 Which car's fog light and tires are these?
Clue - It is a SUV, sold in India.
Right or wrong, suppot us! Put your answers in the comment box below. Some of your answers will not appear today, it will be published along with the correct answer tomorrow.