Oct 11, 2017 - 12:11pm IST
Filed under Toyota Corolla, Toyota
Toyota Corolla Axio & Toyota Corolla Fielder minor refresh leaked
Sagar Parikh, I'm the international news editor at IndianAutosBlog.com. I love everything that has a steering wheel!
The JDM Toyota Corolla is set to receive a minor refresh, an image leaked on Twitter has revealed. The eleventh generation of the Toyota Corolla Axio and Toyota Corolla Fielder was launched in 2012. The compact car duo had received a facelift in 2015.

The Toyota Corolla Axio and Toyota Corolla Fielder's 2015 refresh saw the styling change drastically, especially at the front. The second refresh is a minor in comparison. Both sedan and estate have neither the elegant lower grille with horizontal slats, nor a dot pattern front lower grille. The gliding running from the upper grille to the headlights also looks new.
The Toyota Corolla Axio is 4,400 mm long, 1,695 mm wide and 1,460 mm tall. It is available in with three petrol engines: 1NR-FE 1.3L petrol, 1NZ-FE 1.5L petrol and 2NR-FKE 1.5L petrol. The 1NR-FE engine produces 95 PS and 121 Nm of torque. The 1NZ-FE 1.5-litre engine is available in two versions: 109 PS/138 Nm (2WD)/103 PS/132 Nm (4WD). The 2NR-FKE engine develops 109 PS and 136 Nm of torque. Only the 138 PS 1.5L petrol model is available with a 5-speed manual transmission. The rest of the range has a continuously variable transmission.
The Toyota Corolla Axio has a hybrid option as well. Its powertrain comprises the 1NZ-FXE 1.5L petrol engine good for 74 PS and 111 Nm of torque and the 1LM electric motor generating 61 PS and 169 Nm of torque. e-CVT is standard in the Corolla Axio Hybrid.
The Toyota Corolla Fielder is 4,400 mm/4,410 mm long, 1,695 mm wide and 1,465 mm/1,475 mm/1,500 mm/1,510 mm/1,535 mm tall. It is available with all the petrol engines of the Toyota Corolla Fielder, as well as the 2ZR-FAE 1.8-litre petrol engine that delivers 140 PS and 172 Nm of torque. This engine is paired to a continuously variable transmission. The estate also has a hybrid model, with the same specifications as that of the sedan.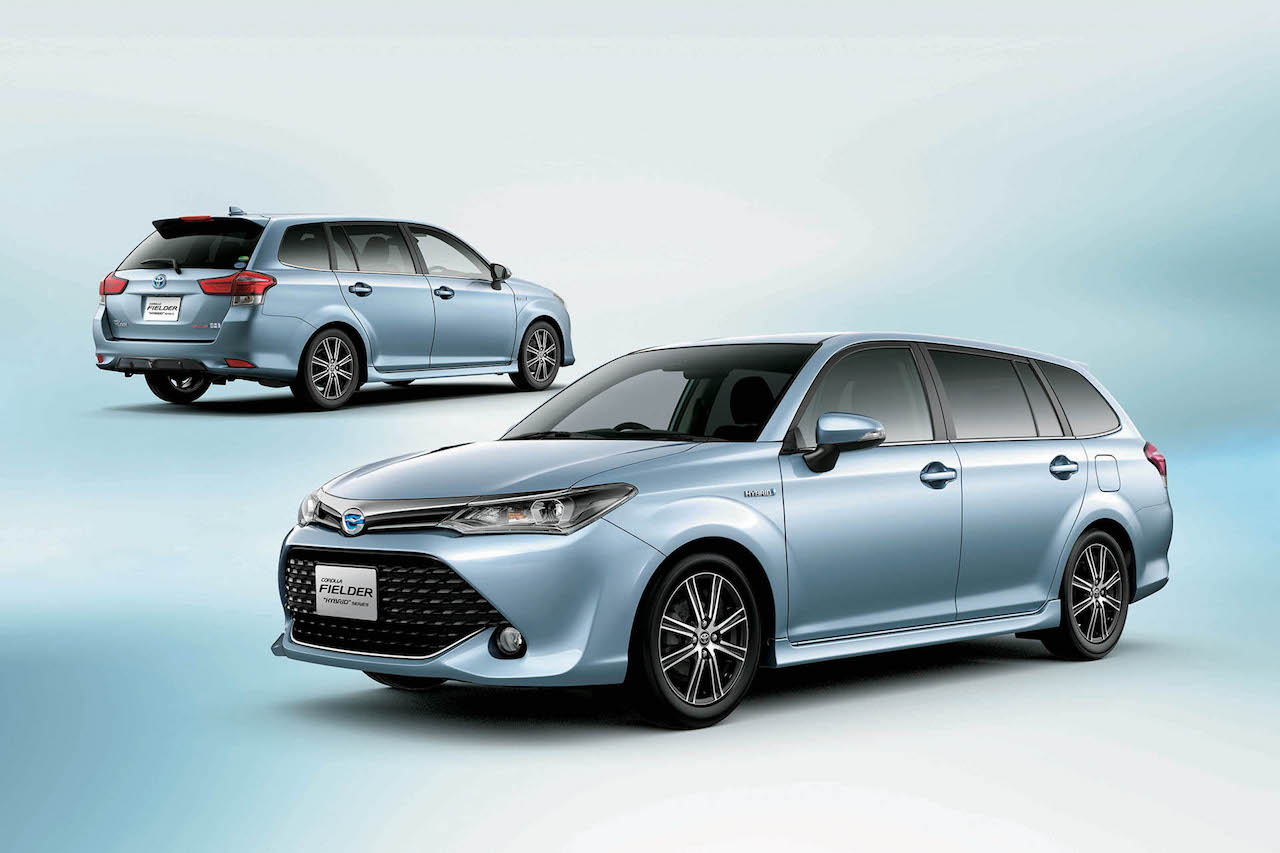 Also Read: TNGA-based Toyota TJ Cruiser concept is part MPV & part SUV
The 2018 Toyota Corolla Axio and 2018 Toyota Corolla Fielder's launch timeline is currently unknown, but Toyota would not want to miss the opportunity to unveil it at the Tokyo Motor Show that kicks off on Oct 25. Meanwhile in Europe, the twelfth generation of the global Toyota Corolla is undergoing road tests. The TNGA platform-based all-new Corolla should debut in late 2018 or early 2019.
Toyota Corolla Axio - Image Gallery
Toyota Corolla Fielder - Image Gallery
[Image Source: Twitter via livedoor Blog]